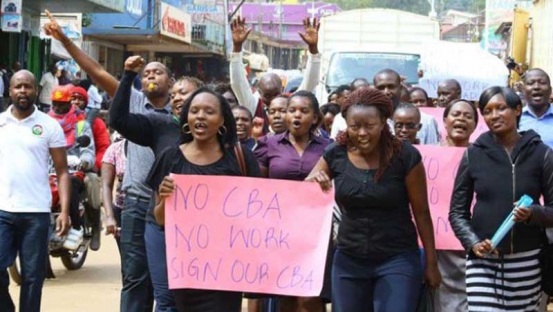 The Council of Governors, Ministry of Health and Kenya National Union of Nurses (KNUN) on Thursday signed a Collective Bargaining Agreement (CBA) ending the five-month-long nurses' strike.
Nurses have agreed to resume work on Friday, November 3 while the Government promised to remit withheld salaries by November 30.
KNUN blamed the Council of Governors (CoG) for the 151-day stalemate saying they diverted attention to the leadership of the union rather than focusing on issues raised by medics.
"They have diverted the attention of the public to only address the union leadership, which is not important and does not improve service delivery or address the plight of nurses," said Deputy General Secretary Maurice Opetu during a press conference on October 15.
The Government had earlier threatened to sack striking nurses claiming the impasse was not lawful.
"The nurses' strike is illegal. It is notable that the nurses went on strike while the negotiations on their CBA were taking place. This was an act of bad faith," said CoG Chairman Josphat Nanok.
The strike kicked off at the wrong time when the country was in a political campaign mode. In fact, street demonstrations by nurses across the country hardly made it to the top of news bulletins.
All disciplinary action against the striking nurses has also been suspended forthwith and a return to work formula set in motion.