Home
/
Health & Science
No deal for striking doctors as talks with Labour CS collapse
Health & ScienceBy Graham Kajilwa | Thu,Dec 15 2016 19:00:43 UTC | 2 min read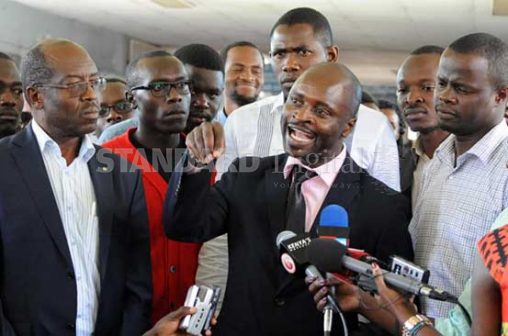 Talks to have doctors return to work hit a dead end on Thursday after a meeting scheduled by the Labour Ministry collapsed.
The meeting convened by Cabinet Secretary Phyllis Kandie failed to take place after doctors led by the Kenya Medical Practitioners, Pharmacists and Dentists Union (KMPDU) top leadership stormed out.
KMPDU Secretary General Ouma Oluga later argued that his 12 member team was chased out of the CS' boardroom.
However, CS Kandie refuted the claims insisting that KMPDU failed to nominate the authorized members to meet with the government's team in the negotiations.
"To set stage for mediation, we mutually agreed that each party nominates five representatives authorized to proceed with the talks," said Kandie.
However, once the meeting resumed, Kandie said it was realized that KMPDU representatives were not authorized officials as per the recognition agreement to lead the mediation.
"Since they did not have the authorized team, I had to postpone the meeting until they meet the minimum requirements in conformity with labour laws. This is by either nominating the right members or present their new chosen team in writing," said Kandie.
KMPDU in their defense said the government's team led by Health Principal Secretary Dr Nicholas Muraguri and Council of Governors Chief Executive Officer Jacqueline Mogeni was not 'strong enough'.
"As such the five member KMPDU team has been ridiculed, belittled and disrespected by the CS and the government's team," claimed Oluga.
Oluga refuted claims that KMPDU has declined to negotiate, adding that his union has faithfully and willingly engaged even under threats and intimidation.
"KMPDU reiterates the simple solution is the implementation of the Collective Bargaining Agreement signed between government and KMPDU on June 27, 2013, and effective July 1, 2013," said Oluga.
CS Kandie has since maintained that her ministry will not relent until a solution is found on the doctors' impasse.
"I want to reiterate that contrary to the information circulating, the talks have not collapsed, I just postponed the meeting. What I would love is for the union Secretary General himself to be part of the team," said Kandie.
Related Topics