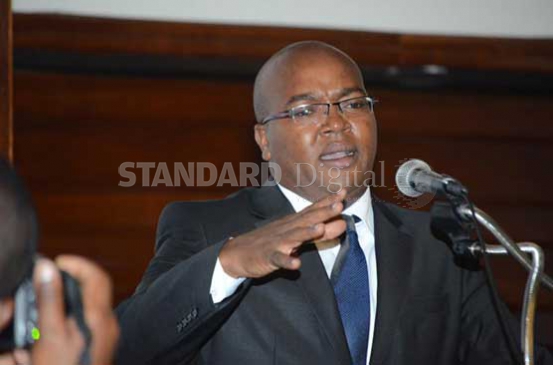 NAIROBI: The Government needs an extra Sh3 billion to put all Kenyans diagnosed with HIV/AIDS on crucial anti-retroviral treatment as recommended by latest guidelines from the World Health Organisation.
The new guidelines call for all persons diagnosed with HIV in the country to be put immediately on ARTs even if the immune system of their bodies is still strong.
Currently, the treatment is only given to those whose immunity has been weakened significantly by the virus.
Director of Medical Services Dr Nicholas Muraguri said Thursday that out of the 1 million Kenyans who have been confirmed to have HIV through tests, about 850,000 are receiving free ARTs, leaving about 150,000 without the vital drugs. Currently, the state spends at least Sh17 billion on ARTs.
"To provide free treatment to the other 150,000 and others, we require at least Sh3 billion every year for us to be in compliance with the new WHO guidelines. The guidelines will be a game-changer in combating HIV/AIDS," he said.
Dr Muraguri said the immediate treatment of HIV as recommended by the new guidelines is vital since it not only prolongs the lives of those with the virus, it also reduces the risks of them transmission the disease to others.
Statistics from the National AIDS Control Council show that an estimated 58,000 Kenyans die annually from AIDS, including 11000 children largely due lack of access to crucial life-saving ARTs.
Dr Ahmed Kalebi, Honorary Lecturer in the University of Nairobi and a founder member of HIV Clinicians Society of Kenya said that providing ARTs to all Kenyans diagnosed with HIV requires significant human and infrastructure resources and planning for it to work.
Dr Kalebi, who is also the CEO of Pathologists Lancet Kenya Laboratories, said implementing the new guidelines in Kenya without proper safeguards may increase the risk of drug resistance, drug stock-outs, insufficient patient preparation and poor adherence to treatment.
He suggested that the scaling up of HIV treatments in the country should be accompanied by a robust and long-term programme of laboratory monitoring of viral load, drug resistance, toxicity, safety and adherence to the drugs among other things.
"The guidelines also mention the need to address structural and social barriers to accessing treatment faced by key populations, such as criminalisation, discrimination and stigma," he said.
On his part, Dr Sobbie Mulindi, an expert on HIV/AIDS said Kenya should negotiate for importation of cheaper ARVs or manufacturer the drugs locally to ensure that all Kenyans with HIV get treatment.
"If there is political will, the WHO guidelines can be implemented fully in the country. There is no reason why it cannot be done," he said.
In the new guidelines, WHO is also recommending that sections of the population that are in high risk of getting HIV should be put on ARVs to prevent infection.
Those eligible in Kenya under this category commercial sex workers, drug users and men who have sex with men, prisoners, fishing communities, long-distance truck drivers, street children and persons with disabilities among others.