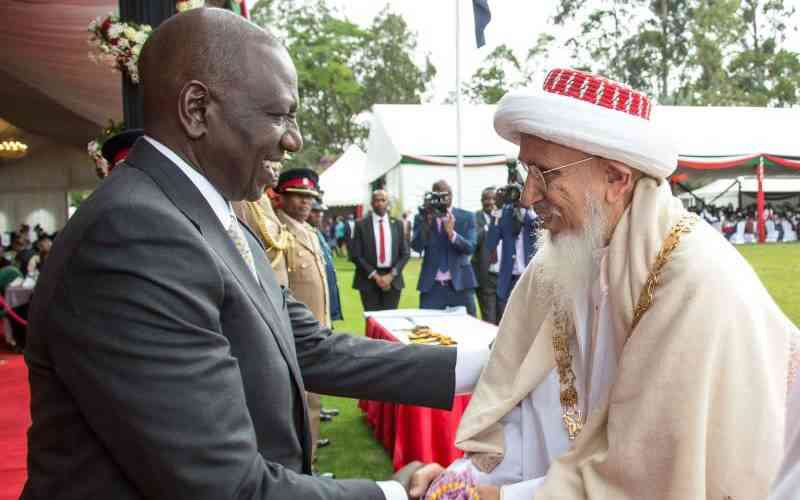 It has been 100 days since the Kenya Kwanza administration came into office. Why the obsession with 100 days you may ask.
Time is of the essence for any leader and hence the self-imposition of 100 days.
"Misuse time and limits will begin to impose themselves" because even the best remaining choice will be complex to execute," warned Henry Kissinger a former US Secretary of States.
For President William Ruto, what stands out in those 100 days is mainly what has not been achieved. Simply put, we haven't witnessed the sort of radical action that can address the really pressing issue at the moment - an economy whose performance remains lamentable.
Besides the blizzard of reversals of administrative action by the previous regime, there hasn't been much shake-up in terms of policy to convince the naysayers and critics that at this time next year, we will be in a better place.
James A. Baker, another former US Secretary of State said; "the point of holding power is to get things done and accomplish things."
Governments exists to create jobs through the facilitation of wealth creation. So they have their eyes on employment, price stability (through lower inflation rates), low interest rates and keeping the balance of payments at an equilibrium. These combinations then lead to high economic growth through increased output. But as they say, floating objects displace water equal to their weight and so governments achieve what is equal to effort applied to get the job done.
President William Ruto ran a good campaign. He brought with him genuine optimism and a sense of urgency that was absent on the Azimio la Umoja side. However, optimism runs only so deep.
Though President Ruto has a chance to make a big difference, much will ride on his instinct to get things done. 100 days on and we are struggling to find one thing - besides the fertiliser subsidies, the inconclusive CBC review and a non-coherent articulation on the administration of pension and the launch of the Hustler Fund - that will boost productivity, turbo-charge the economy to provide more jobs and create wealth and make people happy. The economy remains in perpetual stasis.
100 days were enough to send a signal of the intention to structure the political economy to achieve efficient and equitable distribution of resources.
Where is radical shift in public policy on interventions on actions that best serve public interest or the intention that the State wants to maximise welfare and act in public good?
The market doesn't provide public goods at a socially optimal level. The incentive is to provide them at prohibitive costs. Hence why health, education and transport cost an arm and a leg for most Kenyans. If you want to sleep well, you get a private security guard. The police are unreliable. Because it is in private hands, transport in most towns consumes a third of household income. Rent, food and healthcare take the rest.
Like in the rest of the developing world, Kenya's problem is the high transaction costs. This then leads to market failures and an equilibrium that is inefficient and sub-optimal for society.
So where should President Ruto start? For strategies to inspire the society, writes Kissinger, "leaders must serve as educators - communicating objectives, assuaging doubts and rallying support."
There is a residual belief that he can achieve a lot ONLY if he were to get a few simple things right but which have far bigger impact. To bring down the transaction costs, for example, public administration, the health, the education, the pension systems all need a thorough shaken-up.
He will do this first by addressing the gaps mainly in an administration that is ill-experienced in statecraft and the mechanics of running state.
He also needs to set his priorities right. He can chew gum and walk but then what? His change of heart and the desire to change the Constitution is a slippery terrain that will do him great damage by slowing down the development agenda. He derived a lot of his legitimacy from the opposition of the BBI. He shouldn't squander that on what might be – considering the prevailing state of "wokeness"- a wild goose chase.
And if productivity and competitiveness came from numerous meetings and slogans and good soundbites, then Kenya Kwanza takes the trophy. It could also be an indication that it is yet to learn from the mistakes of the first Jubilee administration.
Jubilee was relentlessly driven by the quest to win accolades that it forgot what really mattered. In the end, it was all heat and little light.
Mr Kipkemboi is Partnerships and Special Projects Editor, Standard Group
Related Topics