Home
/
Health & Science
Government to spend Sh4.7 billion on breast cancer
Health & ScienceBy Kennedy Gachuhi | Mon,Oct 25 2021 19:40:00 UTC | 3 min read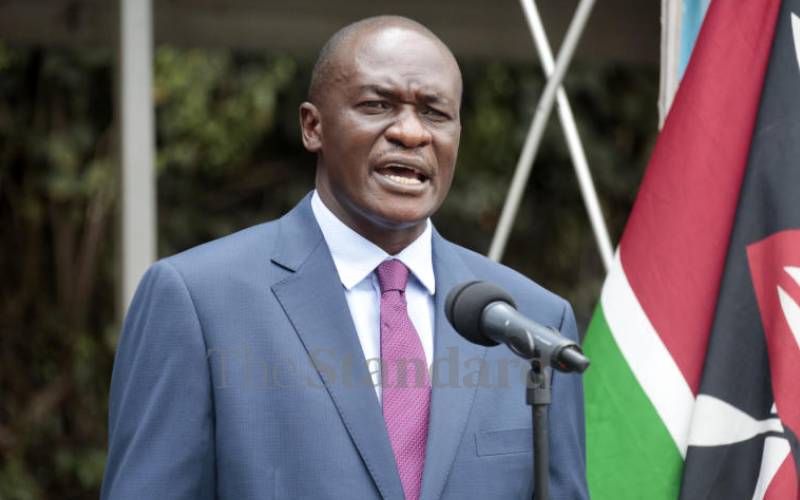 The government will spend Sh4.7 billion on breast cancer in four years to 2025.
The action plan on screening and early diagnosis launched at the Nakuru Level Five Hospital last Friday is aimed at improving availability and utilization of breast cancer screening, diagnostic, management and other supportive services from the current 13 percent to least 30 percent by 2025.
"It will also ensure at least 90 percent of symptomatic women are linked to further evaluation and management within 60 days of their first encounter with a healthcare worker and improve health workforce availability and capacity to provide appropriate services," said Dr Patrick Amoth, the Director-General of Health.
In a speech read on his behalf by Dr Joseph Lenai, the Director Health Sector Coordination and International Health Relations, Dr Amoth said that the government has identified five areas under which various activities shall be undertaken including "governance and policies, demand creation and community education and engagement, training and professional development, service delivery, monitoring and evaluation framework and research."
In the comprehensive breast cancer early detection program, the government will implement the National Cancer Screening Guidelines 2018, the National Cancer Specimen Handling Guidelines 2020 and National Cancer Treatment Protocols 2019.
"This plan recommends a phased approach for implementation of appropriate early detection strategies so that next steps in each critical phase in breast cancer diagnosis and treatment can be recognized and re-prioritized," the plan reads in part.
The plan has laid emphasis on lifestyle modifications, screening, early diagnosis and chemoprevention as the main strategies for battling breast cancer prevalence in the country.
"The rate of breast cancer screening in Kenya is ranging at 13.6 percent. Only 25 percent of Kenyan women aged 15 to 45 have performed self-breast examination with the rate even lower among those from rural and low socioeconomic status," the plan states.
The plan will see an enhanced health promotion at the community level, patient education and awareness on self and clinical breast examinations at primary health care facilities while imaging and samples collection at secondary facilities.
Treatment, palliative and rehabilitative services shall be offered to patients at tertiary level facilities.
Cancer is ranked as the third leading cause of death after infectious and cardiovascular diseases accounting for seven percent of the country's overall mortality with breast cancer taking the highest incidence among other types of cancers.
A 2020 Global Cancer Observatory report (Globocan 2020) indicates that the country reported 42,116 new cancer cases and 27,092 deaths with a majority of the patients diagnosed at advanced stages.
"Breast cancer is the leading type of cancer in Kenya with 6,799 new cases in 2020 and an age-standardized rate of 41 per 100,000. It is rare in males who account for less than one percent," the report reads in part.
In Kenya, breast cancer has been found to occur mostly among persons aged between 35 to 50 years as compared to Western countries where the population aged between 50-55 is the most affected.
While a majority of the male breast cancer incidences are diagnosed at an advanced, existing global screening guidelines do not recommend screening programs for men.
Related Topics