Abstinence prevents cancer too, not just HIV - Dr Elly Odongo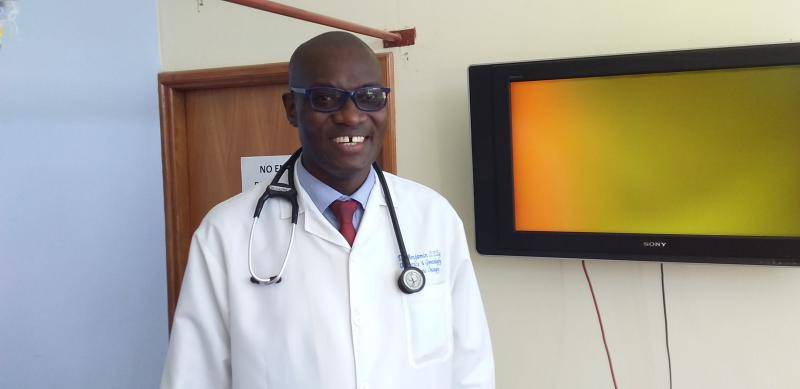 Every October the world goes pink to mark breast cancer awareness month. DR ELLY ODONGO, the Chief of Gynaecological Oncology at Moi Teaching and Referral Hospital talks to GARDY CHACHA about cancer, grief, and why every Kenyan family is one major illness away from poverty.
Gynaeological oncology' is a mouthful: break it down for us.
As a gynaecological oncologist, I treat women, girls and children with malignancies that affect the reproductive tract. This is a branch of cancer care focused on cancers of the female reproductive system; mainly cancers of the cervix, ovaries, uterus, vagina and vulva including those that arise from pregnancy-related conditions.
That includes breast cancer?
Of course. An integral part of the gynaecologic examination is examination of the breasts. The gynaecologist may be the primary physician, sometimes the only physician, seen on a regular basis by women of childbearing age. Therefore, cancer of the breast is recognised more often by gynaecologists than by any other physician.
What causes breast cancer?
There is a lot that we, doctors, still don't know about breast cancer. But the much we know is that it is linked to possession of a gene called BRCA 1 or BRCA 2 genes. In a nutshell, cancer basically means 'abnormal cells'. So cells turn from normal to abnormal when they undergo genetic or epigenetic - environmentally induced- changes.
Can one test if they have the gene?
As Kenya Obstetrical and Gynaecological Society (KOGS), we actually advise women with a strong family history of breast cancer to undergo genetic screening. Presence of the gene means that a woman has a lifetime cancer risk of 80 per cent (breast) and 50 per cent (ovarian) among those with BRCA I mutations; and 50-80 per cent (breast) and 50 per cent among those with BRCA II mutations.
Can Kenyans test if they have the gene?
I am aware that the test is available locally. The challenge, I think, would be in its affordability.
What next after one tests positive for the gene?
If the woman has already achieved their desired family size, meaning child birth, we can advise them to consider surgery where the breasts, the ovaries, the uterus and the fallopian tubes would be removed. These organs are physiologically linked. According to the "seed and soil" theory, by removing them you starve the cancer of the 'soil' to grow from.
Would that be enough to prevent the cancer?
Yes. But, the cancers that affect the breast and the ovaries are also referred to as 'Fallopian tube, ovary and peritoneum' cancers. There is a small risk that the cancer can develop in the peritoneum – the inner lining of the abdominal cavity.
How can one avoid ever getting cancer?
There is no straight answer to that question. As KOGS, the message we want Kenyan women to get this October is that prevention is better than cure. Nearly every Kenyan family is one major illness away from poverty.
Speaking of that, why is healthcare, especially cancer treatment, so expensive in Kenya?
I can't speak to that. But I can say for us as a country to cushion our population we just need to strengthen our public health system – from primary health care all the way up. And then make sure we all have health insurance.
Talk to us about cancer prevention.
We must encourage breast self-examination. All women of reproductive age should do so every month after their menses. They can pick something: a lump, an orange-peel appearance, abnormal pain, significant asymmetry or anything abnormal really.
Have you ever faced a situation where the patient cannot be treated: in other words, you know they won't make it?
In our approach to treating patients with terminal illnesses, we adhere to tenets of palliative care. Most of us are spiritual beings and it makes the process easier to rope in the religious community. In those moments, we try to control pain as we keep the patient comfortable. And we work with their families and caregivers to ensure that they have dignity even in death. Every doctor faces these scenarios every so often.
Have you grown numb to death as a result?
You can't grow numb. We are human too. We have feelings. We have our own kind of care. We get time off to just reflect and debrief. To rejuvenate. We get affected by this too.
Back to cancer: the BRCA gene is the only predisposing factor?
No. Different types of cancers are associated with different risk factors. For instance, cervical cancer is linked to infection with human papilloma virus (HPV) and liver cancer to Hepatitis B virus. Lung cancer is linked to smoking. Some toxins – such as aflatoxins – have been proven to induce genetic and epigenetic changes in cells that eventually grow to cancer. The disease is generally associated with bad lifestyle: obesity, alcohol, bad diet, abuse of drugs and so on. That being said, many cancers are sporadic: they just occur and we cannot point to a cause – beyond reasonable doubt.
HPV is sexually transmitted, right?
Yes. But unlike HIV, you can't really prevent transmission of HPV by using condoms. HPV is not like HIV. Condoms won't work 100 per cent of the time. Labio-scrotal contact is enough for HPV to be transmitted from one person to another.
To what extent does HPV contribute to cervical cancer?
Over 80 per cent of cervical cancers have been linked to HPV infection. The virus also causes oropharyngeal, penile and anorectal cancers.
How does cancer cause death?
In very many ways. For instance, the cancer can grow and alter functions of vital organs or by mechanical effects like blockage of organs including blood vessels. Cancer also deprives healthy cells of nutrients and oxygen. They produce chemicals that allow them to evade the immune system; moving from one part of the body to another (malignancy). Cancer patients are also prone to develop blood clots, which can travel to vital organs such as the lungs or the brain.
How can one keep themselves from ever getting cancer?
For young people, abstinence protects you from cervical cancer. You can also get vaccinated against HPV and Hepatitis B. I understand the HPV vaccine is available and is currently being offered to teenage girls. It is also important to go for screening regularly such as pap smear test and mammograms. Cancer is readily curable when caught early. We have the know-how, technology and capacity within the country to diagnose and treat cancers. You don't really need to go outside the country.
Why did you become a gynaecological oncologist?
I decided to become an obstetrician and gynaecologist after serving as a medical officer in the early 2000s in Northern Kenya. Back then, I witnessed high mortality of women from bleeding during child birth and FGM. Then my mother was diagnosed with ovarian cancer. Back then, we did not have much local expertise and technology. And so, she couldn't get proper care. Then I realised we have a greater need for gynaecological oncology to understand the complexities of reproductive cancer. I had the desire to train in diagnosis and treatment in all the techniques and modalities of treatment such as radiation therapy, chemotherapy and surgery and also to recommend supportive therapies to help cancer patients manage emotional, physical and sexual side effects of reproductive cancers. I did my fellowship in gynaecological oncology from 2016 to 2018.
Do you still help women give birth?
No. But occasionally I get called in to help in very unique situations.
Can men get breast cancer?
Yes. But it is very rare in men. I don't know how often they should self-examine. It is very rare though.