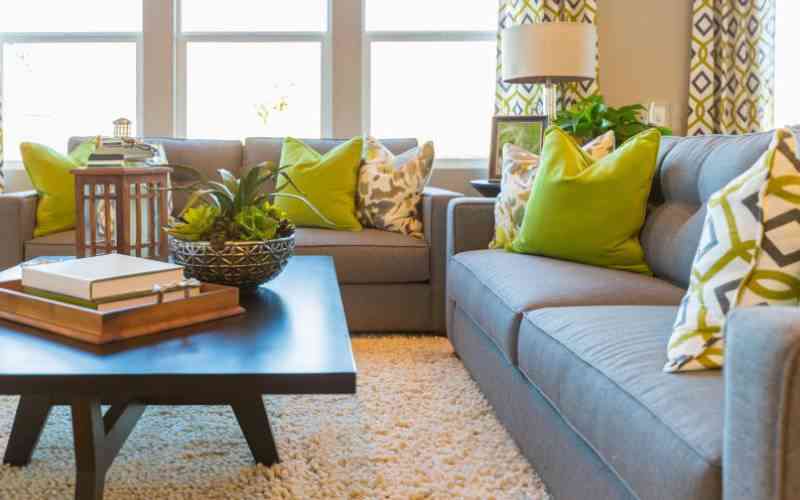 Creating the illusion of more space in a small living area can make a huge difference in how you feel and enjoy your space.
With the help of a few clever techniques, you can make the most of every inch of your home and create the illusion of more space without it being a daunting task. Here are some practical tips to make your small space feel bigger:
Use built-in shelving
Using built-in shelving is a great way to save space and maximise your storage space. Using built-in shelving helps to keep the room organised and free from clutter. Built-in shelving saves space by utilising vertical wall space. It can also add visual interest to your room by breaking up large expanses of wall space, providing an opportunity to display your décor and create a focal point to your room.
Use the vertical space method
Using vertical space saves valuable floor space, especially in smaller rooms, while creating more storage space, which increases functionality. Vertical space in a room can be well utilised by hanging shelves or artwork higher on the walls.
Lighting
Lighting brightens a room and makes it feel more open. It also creates a warm and inviting atmosphere in a room, making it feel more welcoming and comfortable. It can also highlight architectural features such as windows, provide task lighting and can be tailored to the specific needs of the room and the homeowner.
Use a large area rug
A large area rug creates the illusion of more floor space. It can also help define a space such as a sitting or dining area, add warmth and comfort especially in colder months, reduce noise by absorbing sound and can also be customised to suit the needs of the homeowner and the room. A large area rug can be used to make a room more organised, inviting, peaceful and stylish.
Avoid placing all your furniture against the wall
It is usually very tempting to place pieces of furniture against the wall in a small room, especially if it is a square room, in order to maximise your space. However, this makes the room feel smaller rather than bigger. Placing all your furniture against the wall creates dead space in the centre of the room, which limits the flow of the room and makes it feel cramped.
It can also make the room feel smaller and more claustrophobic by emphasising the size of the room. It is advisable to float some of the furniture in the room to create a more intimate seating arrangement, whilst freeing up the wall space to create the illusion that the room is larger than it actually is.
Keep your windows unobstructed
This will let in light and make the room feel more open. It also helps to improve air circulation in your room, which can make it feel fresher and more comfortable. Unobstructed windows let in more natural light, making a small room feel less cramped.
Use space-saving storage solutions
Space-saving storage solutions such as under-bed storage or hanging organisers are a great way to make the most of your limited space. This will help keep your space clean and organised and your things out of the way.
Use a statement piece of furniture or artwork
A statement piece of furniture or artwork creates a focal point in the room, making it feel larger. It also distracts the eye from the actual size of the room.
Use a glass coffee table
Transparent materials allow more light to pass through, making the room feel airier and spacious. This is because the eye moves past it and continues around the room. Glass coffee tables create the illusion of more space because you can see the floor through it.
Related Topics