Home
/
Young Women
I am doctor but cancer found me too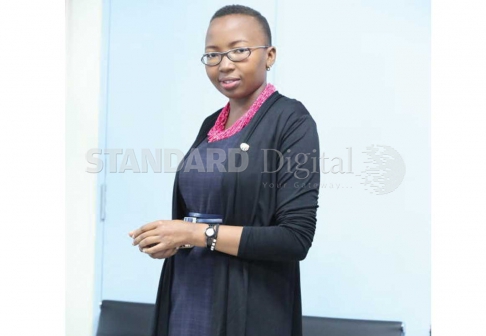 This is Breast Cancer Awareness Month and while there are many health facilities where cancer-scan services are offered for free or at lower rates throughout the month, many people fear knowing the results and the month elapses as they procrastinate.
Muthoni Mate, a 35-year-old epidemiologist religiously embraced her annual health routine check-up and was diagnosed with cancer during one of the visits. She narrates her experience to Lucy K Maroncha
"You are surgeon not a tailor for Pete's sake!" I screamed at the doctor who had operated on me to remove cancerous cells from one of my breasts. I had gone for a review after an agonising experience since I had been diagnosed with a malignant tumor on my breast. I had been informed that the cancerous cells would be removed and the nightmare would soon be over. But here was my surgeon exclaiming: "Oops! It looks like some cancerous cells remained and you need another surgery urgently."
The doctor delivered the news so nonchalantly like he didn't understand the anguish I had already gone through before I arrived at the operating table. The revelation that I had a malignant lump on my breast left me in shock and disbelief.
The look on the doctor's face had immediately sounded the alarm. This was our family doctor and he had done my annual routine medical tests every August for as long as I can remember. I am a medical researcher myself so I have embraced all the dos and don'ts of healthy living. I had never missed my pap-smear test, cervical-cancer screening and I also did a home-based breast cancer test every day. My father is a doctor and ever since I was a child, I always enjoyed the benefits that come with having a doctor for a father. So what hadn't I done right?
Yet the look on my doctor's face as I went to pick up test results was unmistakable; it was a look of doubt and shock. I faked a smile as we exchanged glances, he smiled but the unease on his face was evident; something was extremely wrong.
August 25, 2016 was the darkest day of my life. I had walked casually to the clinic like I always did every last Thursday of the month of August. But this time, it would be different; it would be the month that would mark the beginning of my anxiety, disappointments, and admissions to local and international hospitals besides undergoing two major surgeries. When I remember that day, I shudder at the thought of how events can change within a short time. The thought makes my heart reach out to people who don't have the knowledge or the capacity to act as swiftly as I did even before it was confirmed the lump on one of my breasts was cancerous.
Though my doctor didn't say it directly and opted to send me to an oncologist instead, the message was clear: I had been referred to a cancer specialist! I reckoned that my siblings and I had always enjoyed a clean bill of health. I grew up with my family in Nyeri and I had never had any health issues, save for a common cold.
My entire family enjoyed every advantage that comes with having a doctor in the family. The only time I remember feeling sick was during my undergraduate studies in Alberta, a province in Western Canada. I wasn't careful during winter and I therefore got severe frostbite (injury caused by freezing of the skin and underlying tissues). My body was not used to unnecessary pain so I came back home and enrolled at Kenyatta University to study microbiology. That is the only time I ever experienced severe pain. So what was with my doctor's anxiety and why would he send me to an oncologist?
Nevertheless, I complied and went to the oncologist who ordered an ultra sound immediately. I had earlier toyed with the idea of becoming a doctor but I have a quiet and reserved personality hence I took an MA in epidemiology where I study and interpret disease patterns. That background gave me the knowledge to interpret the gaze the oncologist gave the ultra sound results. The stare at the results, then at me and to the results again convinced me something was amiss.
The oncologist didn't mince his words but delivered the message as gently as he could. He was however noncommittal and suggested a biopsy for confirmation. Thinking about it today, I realise that lack of proper or inadequate information makes people panic. I drove myself to the house hoping that the biopsy would contradict all the suspicions. In such times of doubt and despair, I know that the only voice that can bring consolation is my father's.
I called him and we talked so casually that a person eavesdropping would have thought we were talking about someone else. "Come home immediately," he said. My dad is my source of reasoning so I knew that with him, a solution would be found.
When I got home and I saw the familiar startled look when he saw the results, I panicked. My BRCA was at 4.7 which confirmed that it was definite the lumps were cancerous. My fears were confirmed and I momentarily thought about death. I remembered my then 5-year-old daughter and was terrified.
Panic mode
I drove myself back to Nairobi because I had to take the biopsy as requested by the oncologist. Being on the receiving end as a medical practitioner is an unpleasant experience, since you are the patient and the doctor has to tell you the truth. The biopsy results would take two long weeks to be out. I engaged in field work and travelled to community centres to distract myself from the anxiety.
Every day, I would fall on my bed and sleep soundly out of exhaustion. The results came when I was in the interior of Central Kenya. Though the caller insisted that I travel to Nairobi immediately, I insisted on knowing the results on phone and lo and behold, it was now official: the lump was cancerous!
"You have cancer, cancer, cancer...," a voice within me reverberated. I sat in my car and started crying: I cried for my daughter, I cried for my parents, I cried for my siblings, I cried for a long time. I took the biopsy results to my dad, feeling defeated and worn out. The look of pain and shock I saw on my dad's face that day is one that I would never wish to seeagain; he was broken-hearted and shattered.
The information spread to my siblings like wild fire and everyone was asking how they could help. Three of my sisters said I could live in their houses in turns since my mother couldn't allow me to continue living alone.
How many languages do you speak?
Again, as I remember this day, I imagine of poor woman in the interior of some village with not as much as an informed relative to confide in. This may be a woman, who cannot even raise the bus fare from her home to the nearest health facility or one with no idea what to do with this kind of information. That makes me shed tears and I have since opened my doors to cancer survivors to know that they have a sister in me.
By God's grace, the cancer in me was detected early and so the cells would be removed. I was consequently admitted to one of Nairobi's renowned hospitals for the surgery to remove the malignant cells. I was categorical with the doctors that I could as well have a mastectomy if that would save me the agony. I was admitted for three days for the operation to be done. After the operation, I stayed for three weeks to allow the wounds to heal and decided to go for a review just to be sure all was well. It was at this point the doctor exclaimed, "Oops! Some cancerous cells were not removed."
Though my stay at the hospital during the admission was coloured by many visitors who would occasionally sneak in an ice-cream and share hearty jokes with me, another surgery wasn't what I had signed up for. "You are not dealing with a piece of cloth that you can cut, stitch and repair; this is my body!" The words came out of mouth involuntarily.
With my medical expertise coming in handy, I realised that the cells were now more aggressive because they had been prompted. I became horrified and visualised death -- I clearly saw myself in a coffin and my parents wailing. I envisaged my daughter frightened and unable to comprehend why many people were crying and why mum wasn't with them….
"I discontinue being your patient," I told the surgeon. I signed all the documents stating that I had defied the doctor's advice and went out to seek another option. After consultation with my family, I went to the MP Shah Hospital where I was advised to travel to India for a Positron Emission Tomography (PET) scan.
I traveled with my mother to New Delhi, India where all the cancerous tissues were safely removed after intense breast surgery. They then reconstructed my amputated breast through plastic surgery and by the time I came back to Kenya, no one could tell that my breast had been removed. Wearing turbans
I still believe that if the first surgery had been successful, I would have escaped the trauma of the second surgery and the cancer couldn't have developed to stage two by the time I went to India.
Thankfully, most of my hospital bills were settled by an insurance company and my employer kept me on the payroll during the months I was undergoing treatment. I also got immense support from the Lang'ata Rotary Club where I am a member, my Bible study group in Nairobi and my home church in Nyeri.
The journey through chemotherapy was exhausting but rewarding. My doctors at MP Shah Hospital had prepared me psychologically before I started the treatment such that even when my hair started falling, it didn't take me by surprise. I lost all the hair on my body including my eyebrows! I started wearing turbans at some point but realised that it kept falling off due to lack of hair to support it. Finding comfort
I chose to bring some beauty in the mess and told myself I look fancy when I am bald. The hospital introduced me to the Faraja Cancer Support Trust which provides emotional, practical and healing support to anyone affected by cancer. I made friends at the trust and that motivated me to think of how I could get a platform to bring together people affected by cancer and invite experts to chat freely and ask questions at a person-to-person level.
On Wednesday, September 20, we launched Cancer Café, a platform where people affected by cancer came and met with friends and shared their experiences. I am sure there are people who don't know that there are cancer support centres in Kenya where they can get psychological help. That's part of the message I seek to put across.
My aim is to celebrate the return of dignity to cancer survivors. I miss the energy levels I had prior to the diagnosis. Though I have been given remission, I live in fear of a recurrence and I am frightened at the slightest change in my body. Living in worry is one of my greatest challenges but I am slowly learning to listen to my body. Carrying a pregnancy is a high risk for me in my condition but since i love children, adopting a sibling for my daughter wouldn't be a bad idea.
Related Topics