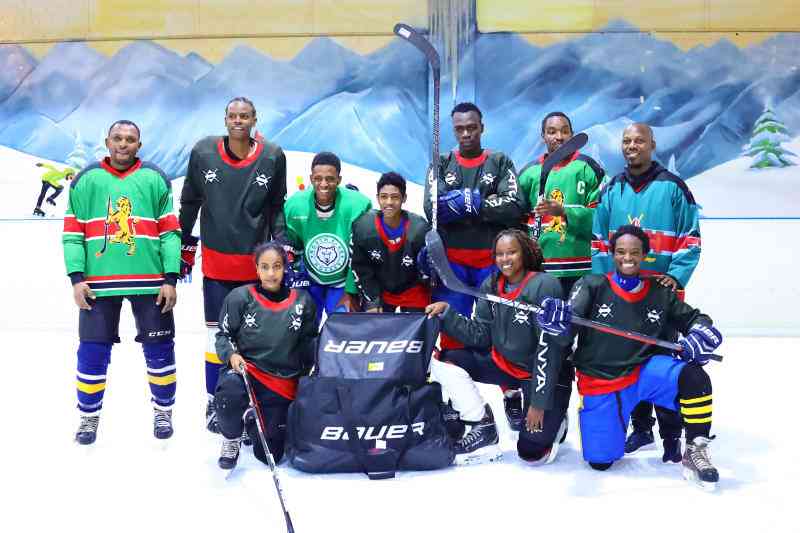 Kenya Ice Lions captain Benjamin Mburu is glad to be among the pioneers of ice hockey that is slowly gaining interest in Kenya.
The 28- year-old center player feels honoured and privileged to skipper the national team that has started to go places.
The team is already planning for a tour of the USA in August and Canada in December where the players will gain vital skills from world beaters contesting the coveted National Hockey League (NHL).
It will be the second time that the Kenyan side will be visiting North America following their successful tour of the region four years ago.
"We gained vital lessons during our visit to Canada in 2018," Mburu told Standard Sports.
"The trip completely transformed the team for the better."
After Canada, the Kenyan outfit had a chance to travel to South Africa where they did a commercial advert for e-commerce firm Ali Baba.
They also had an opportunity to attend the Winter Olympics in Pyeongchang, South Korea, to learn more about the game.
Mburu is definitely happy with his rise in the sport after he was introduced to the game by a close friend in 2015.
His dedication and hard work has made him scale up the ladder to a point where he is now the national team skipper.
For one to be a force to reckon with in the rare game, Mburu says they need to be resilient.
He warns that the sport is quite physical and very unforgiving.
"There are lots of body checks during play, so you need to train hard and cultivate a mental fortitude," he advises.
Mburu believes Kenya has the potential to become a powerhouse in the sport in the continent if the team gets proper playing gear and an Olympic size ice rink. [Ochieng Oyugi]
Related Topics