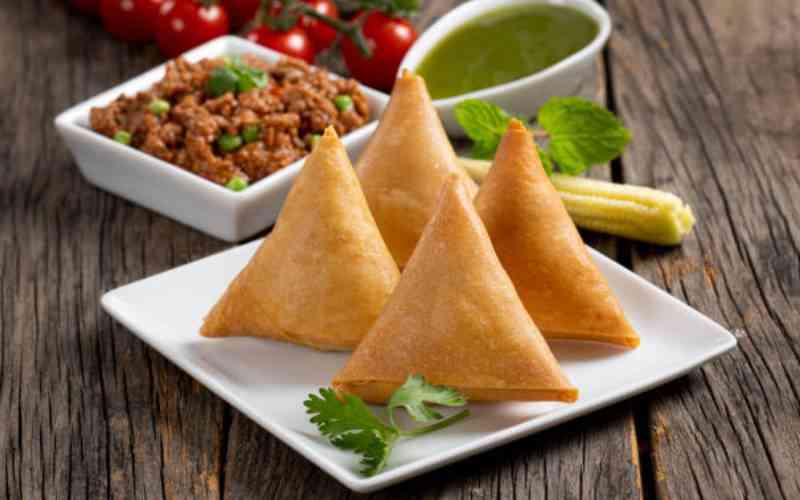 There exist delectable triangular pastries filled with a savoury mixture of spices, vegetables, and sometimes meat, otherwise known as samosas.
In the streets of Nairobi, you will find these delicacies being sold in three categories which are meat, potatoes or green grams samosas.
However, it is not a must for one to eat these delightful snacks from the streets. Today, we shall be learning how to make them from home and enjoy them from our comfort zone.
Ingredients:
2 cups all-purpose flour (for the pastry)
2 tablespoons vegetable oil
1/2 teaspoon salt
Water (for dough)
2 large potatoes (boiled and diced)
1 cup peas (boiled)
1 onion (finely chopped)
2 cloves garlic (minced)
1 teaspoon ginger (grated)
1 teaspoon cumin seeds
1 teaspoon coriander powder
1/2 teaspoon turmeric powder
1/2 teaspoon red chilli powder (adjust to taste)
Salt (to taste)
Oil (for frying)
Instructions:
Prepare the dough by combining flour, salt, and oil. Add water gradually to form a smooth, elastic dough. Cover it and let it rest for about 30 minutes.
In a separate pan, heat oil and add cumin seeds. Once they sizzle, add onions, garlic, and ginger. Sauté until onions turn translucent.
Add turmeric, coriander powder, red chilli powder, and salt. Stir well.
Add boiled potatoes and peas. Mash them slightly while mixing them with the spices. Cook for a few minutes.
Let the filling cool. Divide the dough into small balls and roll them out into thin oval shapes. Cut each oval in half to create semi-circles.
Fold each semi-circle into a cone shape, sealing the edges with a paste made from flour and water. Fill each cone with the potato-pea mixture and seal the top to form a triangle.
Heat oil in a deep pan and fry the samosas until they're golden brown. Enjoy!
Related Topics