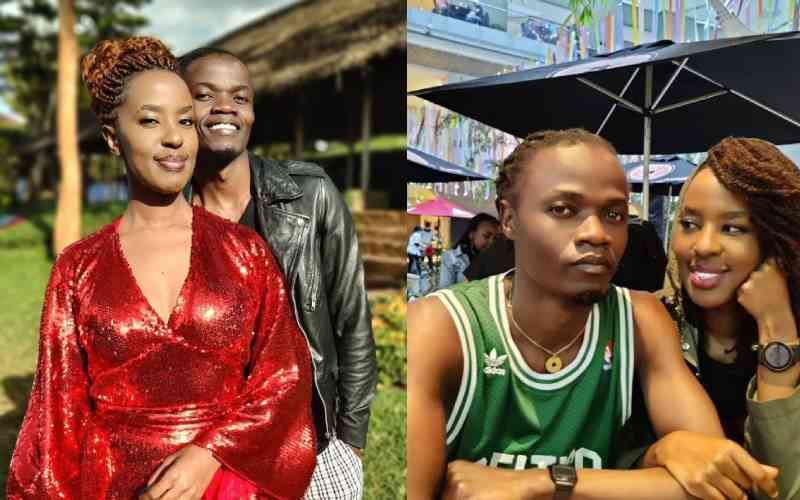 Hip hop artiste Juliani and his wife Lilian Ng'ang'a have welcomed their first child together.
Announcing the news during a recent interview with Presenter Ali, the ecstatic new dad said he is now a father of two - a girl and a bouncing baby boy.
"I have two kids, Amore and the second one. I got him just the other day. I got him with Lilian. People don't know this story because they don't need to know but now you know. So yes we got a baby, a boy. I'm now a proud father of a girl and a boy," he said.
Asked to compare his experience welcoming a girl and a boy, Juliani stated that fathers are mostly spectators when welcoming a child to the world. In his explanation, the woman goes through all the emotional and physical changes that come with pregnancy and is better positioned to tell the difference.
"The truth is you are not so involved. The woman goes through so much. That experience before the nine months, after and how they get back to being themselves. Watching it from outside, it is a very heavy experience. It makes me think twice about how we treat and even talk to women. A man can't go through the same thing and come out okay. But at the same time they derive so much joy from it. As a father, you are just a spectator, but the whole experience, a mother goes through it more than the man," he said.
Speaking on his past relationship, Juliani explained that his union with actress Brenda Wairimu did not end because things did not work out but because their lives transcended to different dimensions.
"There's nothing that doesn't work out bro; everything works out for good for those who believe. For my past relationship, I can't say it didn't work out... it didn't work out as per that office, but it transcended to something beautiful," he went on.
Now that he is married with a second child Juliani says his relationship perspective has changed tremendously.
"We got a child. There is this person that you know now for the rest of your life. You see them in a different light; you appreciate who they are. I have never been in this space before, never been married before, I have a different experience about relationships now. So it only transcends, it never changes, you never have a bad experience. In life, there is no bad and good, it only transcends," added Juliani.
Juliani and Lilian tied the knot at a private wedding sometime in February after months of courting.
Lilian celebrated the wedding day by sharing a photo with her bridal makeup done with the caption, "Happy and grateful to be alive to see my favourite #2 looking soooo aligned! ~ 2.2.22 ~."
Related Topics