Home
/
Relationships
When Clandes make a fuss about baby daddy's riches after he dies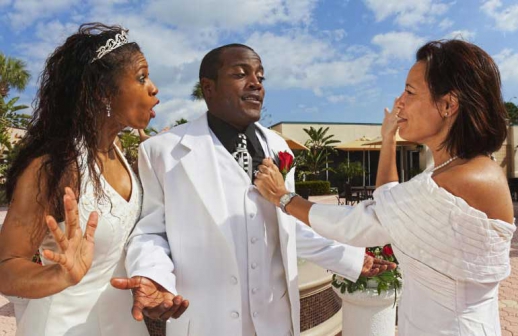 There is a mammoth social problem where Kenyan men after death are discovered to be maintaining multiple families, some which have no right in law to the deceased's estate," argues lawyer Pravin Bowry in an opinion on succession law.
Probate and administration cases are the highest in courts.
In Judiciary's financial year 2013-2014, the number of succession disputes stood at 16,859 cases, which constitute 36 per cent of the legal battles before the High Court in Nairobi. The figures are much higher for the whole country.
Some have been highlighted in the media including those of prominent personalities like Mbiyu Koinange, Fred Kubai, former NSIS boss James Kanyotu, businessman Stanley Muriuki, businessman Johnson Kamau, Josiah Mwangi known as (JM) Kariuki, former police boss Bernard Hinga and Njenga Karume. In most cases, the wealth involved is massive.
CURRENT LAW
Bowry states that the current law on succession has left gaps on the rights of widows and women who cohabit without formal marriages.
In a tussle over the late Johnson Kamau's estate, estimated to be worth Sh157 million, Justice Erastus Githinji ruled the woman had her two children with Kamau as a mistress and not a wife.
Jane Mbeere wanted the court to rule that she was Kamau's wife but the judge said that getting children with him was not enough proof of marriage.
In yet another case, the late Stanley Muriuki's family has also had the mix and match of succession process gone awry. His property is estimated to be worth Sh100 million.
The dispute pitting the children of Mr. Muriuki's first wife Veronicah Wachuka against their step mothers Margret Wangui and Elizabeth Wathenya remained unresolved since 1990.
"Most Kenyan men do not have a will. It is like a bad omen which is seen like one is wooing death. A will is a foreign thing to men in our country," says lawyer Peter Munge from MMC Africa.
The law does not give children who are born out of wedlock outright inheritance rights as compared to the legitimate children.
Another situation is where the woman comes with a child to the marriage, especially in a polygamous set up. Unless the man assumes full responsibility or recognition that the child is his child, then they are left out in administration of estate.
"The tripartite confluence of the 2010 Constitution, the marriage laws contained in the Marriage Act and Matrimonial Properties Act and the old Succession laws creates anomalies for a special class of Kenyans – the widows and ladies who cohabit without conducting formal marriages. The rights of children born out of wedlock are also unprovided-for where the putative father dies without acknowledging parentage," states Munge.
In an interview with The Standard, lawyer Munge notes that the issue is not the law but the culture adopted by Kenyan men.
"It's not about the law but the culture. Men hide their affairs and end up having multiple families with all the women not knowing about each other. At the end of everything, you will find instances that if you line up the children sired by the man, they resemble him in every way," he says pointing out that men should open up when they are alive.
Ugly webs
The family of flamboyant politician JM Kariuki who was assassinated in March 1975 was also caught up in the ugly webs of succession. He died without a will, leaving his three widows — Terry Wanjiku, Esther Mwikali and Doris Nyambura — and their eight children battling for a share of his wealth.
Nyambura, who was the late politician's first wife, argued that Wanjiku and Mwikali ought not be considered as co-widows, a claim the High Court rejected.
Similarly, Hinga's family was pinned to the same duel to control his vast estate. It was estimated to be worth Sh4 billion.
Anothe scene in courts is the self-made billionaire Njenga Karume's family.
A research conducted in the country reveals that only one in 10 men have a will before death. The research by Beep Africa means that nine families, out of the 10, have a likelihood of ending up in court over feuds on who will take what.
Related Topics