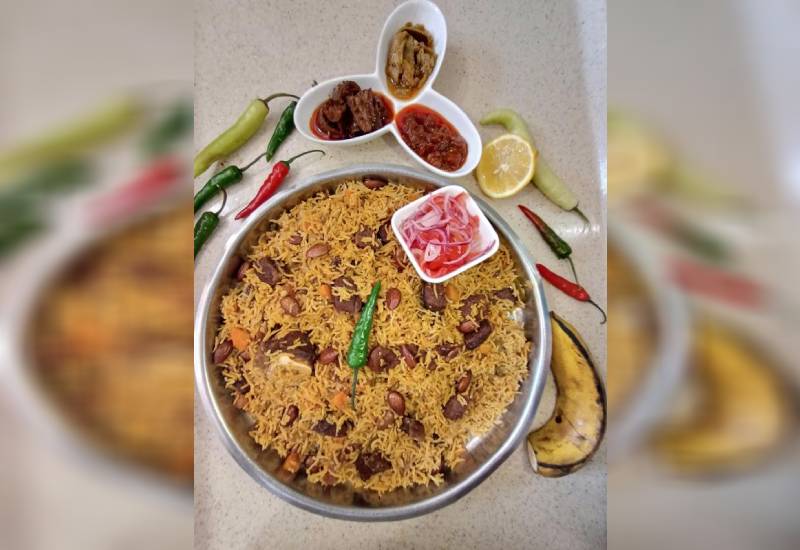 Kishmish, or raisins, can turn a boring rice dish into a delectable meal. Combine them with almonds and beef and add a touch of safron and all the beautiful natural flavours will come alive. Let's get the ingredients and get cooking.
What you will need:
3 tablespoons oil
2 large onions sliced
1 teaspoon garlic ginger mince
2 beef cubes
1 tablespoon curry powder
1 large carrots diced
1 bell pepper diced
1/2 cup whole almonds
1/2 cup dried raisins
500g boiled beef
2 cups long grain basmati rice
4 cups water
Salt to taste
A pinch of saffron diluted in 2 tablespoons of water
What to do:
In a pan over medium heat, add the oil and sauté onions until golden brown.
Add the ginger garlic mince, mix well until fragrant.
Add your beef cubes and curry powder. Mix well until combined.
Now add your vegetables the carrots and bell pepper. Continue to mix well.
READ MORE
Once combined, add the almonds and raisins. Continue to mix until everything is caramelised.
Now add the boiled beef mix until combined.
Add the two cups of basmati rice. Mix well then add the 4 cups of water.
Adjust seasoning with some salt and then bring to a boil until almost all the water has evaporated.
In a separate cup add the saffron to 2 tablespoons of water. Mix until the safron is soft and liquid turns yellow.
Drizzle the saffron with its water over the rice. Now cover it with a tight lid and let the rice steam for about 15 to 20 minutes or until the rice is fluffy.
Serve the rice with your favorite pickles and a side of Kachumbari.