Lucy K. Maroncha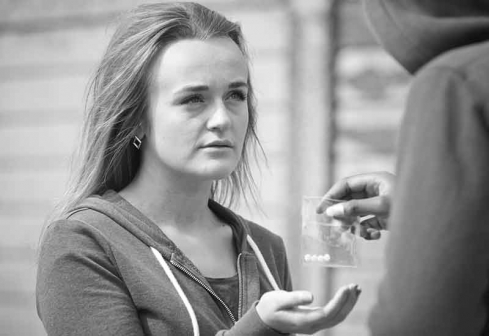 Farida, 28, might never have used cocaine or heroin, but the two have been her main source of bread and butter since she was born. She tells Lucy Maroncha how her mother initiated her into a world she might never know how to get out of.
I am un-educated but wealthy. I have travelled the world and I have sat with the high and mighty. I doubt there is no level of education that can match the amount of money I make in a day. At only 28 years, I own a hotel and drive a Sh3.2 million car and my cheapest jewellery is worth Sh100,000. On a bad day, I make up to Sh10 million. Don't be tempted to think that I am a robber, far from it! My husband and I live a decent life and we are respected in the community, although there are those who think that my way of earning a living is immoral. But that is their opinion. I help the needy and attend all community functions; what's more, I pay school fees for the less-fortunate bright students and give employment to deserving youth in my hotel. Some work as chauffeurs while others are chefs, waitstaff and room stewards. The rules for my business are simple: You want it, I offer it hence not a single customer comes to me under duress.
I m a drug dealer and I have been in the business since I was 15. I was brought up by a single mother in a slum in the coastal region. I had two brothers but one died in a road crash five years ago while the other one went to Europe to take care of my husband's other businesses. We run a chain of hotels across the world though as it were, that is only a side job. My main job is to sell drugs. My husband is not involved directly with the drug trafficking business because he is a foreigner and may be targeted by the authorities more easily than I but I owe my success to his financing. I owe my skill of selling drugs to my mother who died ten years ago.
She taught me the tricks of the trade and I started off as a carrier. My mother would hide the contraband in my clothes since the police those days were not quick to search or suspect a pretty little girl. I rose up the ranks quickly and became a peddler and then a dealer; the position I hold till now, thanks to my husband and my skills.
How I met my husband was coincidental, but true to the adage; birds of a feather flock together. He is over thirty years my senior but not only is he my spouse, but he is also my best friend. He loves me and has helped me a lot especially in my international travels. I met him along the beach when I was only 16 years. My mother used to sell illicit brew and cheap drugs in the slum and I would help clean the cups and serve the less-drunk clients. Her principal rule to all of us was never to drink alcohol or take drugs. This is a regulation my brother and I have embraced to this day. My husband was doing cocaine when we met but he also stopped at some point in our marriage due to health complications.
I would never have known drugs had my mother not been asking me to hide it for her on the many occasions when the police would ransack our premises. I would carry the contraband to customers especially, the beach-boys who wouldn't risk coming to our premises. She would direct me where to find them and always gave me a password to identify the right customer.
Cardinal rule
I don't know why she never entrusted my brothers with the stuff but today I suspect it was because she suspected they would be easily tempted. "Cardinal rule in this trade is that you have to be very sober lest the clients steal from you!" she would always warn. Like mother, like daughter because it's me who gives that warning to upcoming drug traffickers.
Though my mother was a drug-peddler, she was a very responsible mother. I dropped out of school, not because she couldn't afford to educate me but because I didn't like school. To date, I hate being pushed around but I do what interests me with a lot of passion. For example, I studied English language pretty fast and currently, I can read, write and speak four languages: English, French, Spanish and Italian.
My brothers were very bright in school and continued and of course when I succeeded in business I paid their university fees. But one thing I beat them with, to my mother's admiration, was the art of business. I could convince any customer to buy my mother's stuff, a skill I use a lot today in my hotels.
My life took a huge turn when I was 16. My mother had sent me to deliver some rolls of bhang, pills and heroine to some beach boys. I had a premonition that something grand would happen that day and though I didn't have a boyfriend, thanks to my mother's strictness, I was very smartly dressed that afternoon. I was walking to where the clients were on the beach when I bumped into the police. Of course, in my entire life I had known that the police were not friends.
I had grown into a beautiful girl and when they asked me to stop, I smiled beautifully and obeyed. An Englishman, probably in his early 40s then, was right behind us. He interjected before the police would ask questions. "Someone trying to bother you baby," he had asked and held my shoulders from behind. I think he must have given them some money because they left without another word.
He invited me for a walk along the beach and though we could not communicate very well in English, we got to know each other and I was very honest with him about what I did. He trusted me and trust holds firmly over a decade since we got married.
The skill with which I delivered the stuff that day left him stunned and he could only admire my style of business. What I didn't know was that he had been following me every time he saw me on he beach and knew my mission. He had been looking for someone to employ to peddle his drugs but he was scared someone would inform the police.
For a fact, being "sold" to the authorities is a major challenge in this business and indeed people get killed since there is a lot of money involved. In some countries, some drugs are only for the rich because they are extremely expensive. So, a friendship ensued and he started visiting our joint and bought drinks for revellers. It was during one of the visits that he asked me why I never took drugs yet I was so good in supplying them. I narrated how my mother had given all of stern instructions never to use drugs. When he asked if he could employ me to sell his drugs, I consulted my mother and when she told me I could ahead, I agreed to work for him.
The business was so good that we moved from the slum to a more respectable neighbourhood. He introduced me to many of his clients who seemed to be important businessmen and women and I would deliver the drugs to them at their beach hotels and in posh residential homes.
I embraced my work and for the first six months, I had proven to him that I was an honest and intelligent girl. He enrolled me to study English so I could interact well with the clients, something I did passionately. The first day I boarded a flight was to attend a conference in South America. Speakers at the conference said that drug-users have their rights to good health and they should be facilitated not judged. I was with my husband who was then my boss and I listened in awe as organisations spoke how they were supplying free needles and syringes drug-users as a HIV-prevention measure.
That is something I adopted and to date, I supply needles to injecting drug users through some organisations. My boss saw how amazed I was and proposed. I have attended many drug-use related international conferences that emphasise on the interests of drug-users.

Trade secret
I may not disclose how I get the drugs and how I distribute them because that is my trade secret but I can assure you this is not a business for poor people. I have workers all over the world and I have engaged smart lawyers to defend them if shove comes to push. I owe everything I have to drug-trafficking. I have seen the agony people go through when they are craving for drugs and that's something I would not deny them.
My husband has left me to handle that business because his passion is in hotel management but he is sure I can handle any drug-use or drug-trafficking hazards single-handedly. Just so you know, the journey of drugs is long; before it reaches the consumer, it passes through many hands until it gets down to the peddler who sells it to individuals. Everything in drugs requires a lot of money, no wonder it is expensive.
Before my mother died, we had bought her a beach house and she had long retired from selling drugs. I have followed in her footsteps though in my own way, where I supply drugs and ensure that people are injecting them without the fear of infecting each other with Hepatitis B or HIV. I have no children of my own out of choice. Children come with a lot of responsibility and my job requires a lot of travelling. My day starts with meetings with international suppliers and ends late. I cannot get time to rest when a consignment is on the way. I can't rest until it is safely delivered and if I don't get a call from my people in one hour upon arrival, I can rest assured that they had a safe landing.
Of course I wouldn't talk about how I transport the drugs or where I get them because that is my trade secret and like I said, people get killed in drug-related incidents. I have competitors, like in all other businesses.
I don't encourage young men to get addicted to drugs like many think, but if they have the craving, they must get the drug. I know it is a risky job, but I'm too deep into it to stop.