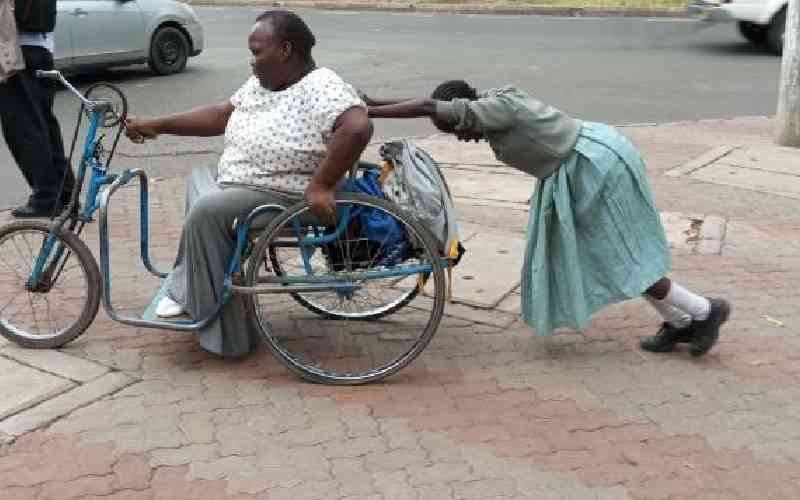 Kenya Women Parliamentary Association (KEWOPA) has asked the parliament to prioritise the welafere of women and girls living with disabilities.
In collaboration with Women Challenged to Challenge (WCC), Kewopa said it is a collective responsibility of all the legislators to ensure that women and girls living with disabilities are at the centre of the development agenda.
Led by the outgoing Principal Secretary Sports and Heritage Josephata Mukoba, the association said women and girls who are disabled encounter unique challenges as opposed their male counterparts.
"Disabled women and girls experience double marginalisation based on both their gender and impairment," the PS said.
Mukoba added that women with disabilities are at a higher risk of sexual gender-based violence.
"A non-disabled woman stands a higher chance of escaping from an aggressor. What are the chances of a woman who is blind, or with mobility problems running fast from their abuser?" she posed.
Mukoba also highlighted a lack of sexual reproductive resources among women and girls with disabilities.
"Most service providers in the healthcare industry are insensitive, especially towards pregnant women," she said.
Mukoba said a woman with disabilities is like other women and has developmental milestones like everyone else and thus should be given that extra help they require to develop like other people.
The World Health Organisation ranks women and girls living with disability poorest of the poor. The situation gets even worse in the face of drought and recession.
And Mukoba in her sentiments noted that in many traditional societies, the social role of women and girls is primarily defined through motherhood and homemaking and with fewer opportunities to fulfill those ideals, disabled women and girls often experience more discrimination.
"There are unique challenges women with disabilities face. In most African cultures, women inherit their husband's property. In our case, it is unlikely that a woman with a disability will get married, given the stigma," said Mukoba.
"When the parents pass on, women with disabilities are often left destitute," she said
Currently, the government sets aside Sh200 million of its Sh3 trillion budget, an amount that legislators feel the government should increase.
"I would urge the current government to allocate more of the budget to PWDs," said Lilian Gogo, Member of Parliament, Rangwe constituency.
The lawmaker said that many PWDs in rural villages are unregistered and face hurdles in assessing opportunities. She also said some swindlers sell disability certificates to PWDs and urged them to stop. Gogo said she would seek to interrogate how money set aside for PWDs is used now that she sits on the public investment committee.
According to the KNBS, over one million women and girls live with disabilities, a number substantial enough to warrant inclusion in all national development programmes.
Women with disabilities further demanded that spaces, facilities, and infrastructure, including roads and buses, be constructed with PWDs in mind.
Dagoreti North MP Beatrice Elachi said she would collaborate with WCC to ensure children living with disabilities are integrated into any school they go to and ensure placement of jobs.
"In the appointments we have, PWDs have not been included, and I hope the president will appoint PWDs as directors and Chief Officers in state corporations," she said.
Jackline Bartenge, programme Manager at WCC, said the engagement with women legislatures would help carry on the discussion.
"We've put each female legislature to commit to holding a girl with a disability and mentor them to join the political space and empower them, because when they're not on the table, they're the meal," Bartenge said.
"As long as there's man, there will always be disabilities," said Josephta Mukoba, outgoing Principal Secretary for Sports and Heritage, who was among the founders of WCC.
"Accidents, birth defects and disease can render you disabled anytime," she added.
Related Topics