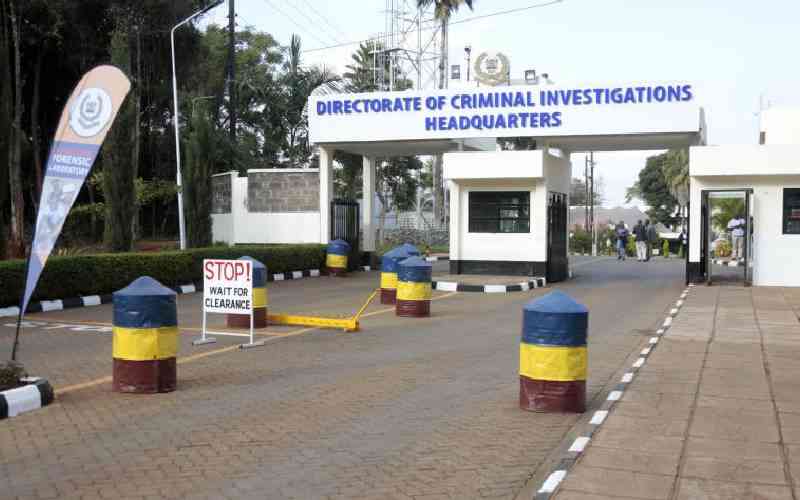 Detectives from the DCI homicide unit have now taken over investigations into the death of businessman Francis Kiambi.
Kiambi, who was a director of an alcohol distillery in Nairobi was reported dead on Sunday only hours after he and the wife returned to their Karen home.
Mary Waigwe Muthoni, wife to the businessman-cum-politician told the police on Sunday that she and the husband had frequented a social joint in Karen and returned home shortly after mid-night.
A police report on the incident filed by Karen Police Station said the couple got into some domestic differences after the wife allegedly declined to be a guarantor in securing a Sh2b loan he was seeking expand his business.
This is the reason why the husband and wife decided to spend the night in different bedrooms in their house.
The following morning, Muthoni went to the bedroom where the husband had spent the night and that is when she discovered that he (Kiambi) had vomited.
Doctors from Karen Hospital confirmed him dead on Sunday at around 9:02am. On Monday, the homicide investigators made their first visit to the home of the businessman in search of answers into his death.
The new team of investigators took over the investigations and will conduct the investigations jointly with officers from the Lang'ata DCI.
Yesterday, the team together with officers from the Nairobi Area Crime Research and Intelligence Bureau spend the second day in the Karen home where they continued with the search for more clues.
At least five people among them the businessman wife, workers, neighbours and the doctor who confirmed Kiambi dead were made to record statements.
After yesterday's visit by the investigators, sources familiar with the probe said the investigators are now hoping that a postmortem examination would give more leads into the death of Kiambi.
"We have not gathered much and we now believe that the postmortem will provide us with new clues, " said an investigator familiar with the investigation.
Kiambi was a prominent businessman dealing in alcohol. He also ventured into politics and ran for the Tharaka Nithi senatorial seat, but lost.
Related Topics