Gardy Chacha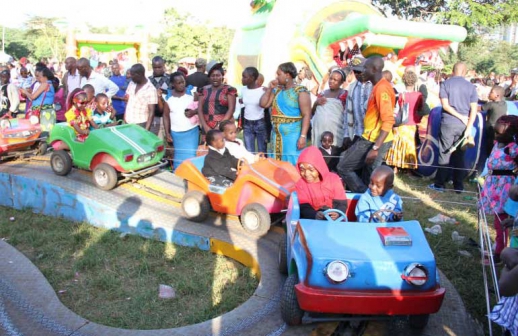 Without a doubt the way we view and celebrate the festive season has been changing over the years and today we look at the sentimentality of these yester years.
This Christmas, four-year-old Savannah Sunday will be receiving either a scooter or a digital tablet as a Christmas gift from her mother.
"She has been asking for these two items throughout the year," her mother, Alliet Mugiruri, says. "Since she has been disciplined I believe she deserves to get one of them."
As Alliet goes shopping this Christmas to get her daughter the much fancied gift she knows she will be fulfilling a timeless tradition (at least in other parts of the world). But for her, it is a 'new' thing.
She, like many in the generation born in the eighties, did not receive gifts at Christmas.
"That is how it was. We knew it was Christmas and there would be some semblance of festivity. But there were never gifts," she says.
Giving her child gifts, during Christmas and other times in the year, is an act of nobility that Alliet wants to preserve and hopefully propagate into later generations in her lineage.
READ MORE
"I was never given a Christmas gift and I want to raise my daughter differently. I want her to understand that she is loved and that when she is consistently disciplined, it makes mummy happy," she says.
Alliet and her daughter perhaps put into perspective how times have changed over the years and with it the Christmas experience in Kenya.
Chris Kirwa was born in the seventies. As he puts it, those were the golden years when Christmas made much difference.
"That was the time us kids got new clothes for the celebrations. We would also eat food that was hard to come by on normal occasions," Kirwa says.
Christmas, he says, was the one chance to eat chapati, French fries (chips) and chicken.
"Those were some fine delicacies. French fries could only be bought from hotels and chicken felt like a once in a lifetime treat," he says.
Fast forward to modern times and Christmas, at least for Kirwa, has lost some of that sentimentality.
When Kirwa was a boy families traveled from the city to the countryside for the festivities.
"The only way you could connect with folks back home was through letters – which took a long time to arrive at the intended destinations. Christmas was the time to travel and meet them face to face and it was also then one got to meet new relatives," he recalls.
The advent of technology, coming in the backdrop of an improved economy, has given Kirwa and some in his generation the malleability to meet their relatives through video calls, text messages, and mobile technology.
"Nowadays, I only travel home when I really need to," he says.
So, this Christmas, Kirwa and his nuclear family will be in Nairobi. That does not mean they will not be in touch with relatives in the countryside. The distance will be greatly narrowed by the click of button - it will be like the whole family is one place.
Among technologies that have changed life, as well as many aspects of Christmas, according to Kirwa include: Mobile money transfer, internet connectivity, mobile phone connection and personal cars.
"These days," Kirwa observes, "people travel on the actual Christmas day which ends up causing major traffic snarl ups. When I was growing up, there were fewer cars on the road. Transport was hard to come by and so many traveled days prior to Christmas so that the actual day found them in upcountry already," Kirwa says.
Ruth Wanyama, a mother of one, will be traveling with her daughter and other family members to Arusha, Tanzania, for the Christmas vacation.
She, however, admits it is not often the family has crossed borders to vacation during Christmas.
"My daughter is probably having a better Christmas experience than I did because she gets to travel and receive gifts from her parents and grandparents," she says.
For Lucy Mosotah, a scientist, "Christmas, in the old days, meant going to church, celebrating the birth of Christ and spending time with family; feasting on delicious food and wearing new outfits."
That, she comments, has changed. She says that Christmas in the modern times, has lost its meaning. "It is now time to just be merry and merrier. The Christian touch has been lost. So Christmas today (for me) is a bit of both – spending time with family and catching up on the years gone by," she adds.
Peter Mbuchi, a former priest who grew up in Murang'a, recalls how Christmas meant chapati, meat and new attire to wear.
"In my home we slaughtered a goat. As children, we would get excited in anticipation of the coming feast that constituted chapati and nyama (meat)," Mbuchi says.
But there was something else to the celebrations. There were Christian songs and praise. And while for young Mbuchi and his peers chapati and meat mattered it was also clear to them that Christmas was more than feasting, there was a character pegged on it: Jesus Christ.
Born in 1954, Mbuchi feels that Christmas, over the years, has grown into mass hysteria with competing business interests.
"My opinion is that Christmas today is too commercialized," he says. "Today, a Christmas tree is no longer a nondescript accessory in our Kenyan homes yet when we were growing up, they were hard to find," he says.
Ocharo believes that just as change is inevitable Christmas too has not been spared. There will be more changes to come.
But Alliet is still hopeful for Christmas. As far as she is concerned Christmas embodies "love, the unity between family members and other people that we cherish in our lives."
That, she says, has not changed. It is, according to her, the essence of Christmas, and the back bone to Christmas celebrations.
Whichever way you chose to celebrate this day, be sure to make it special.
Merry Christmas!