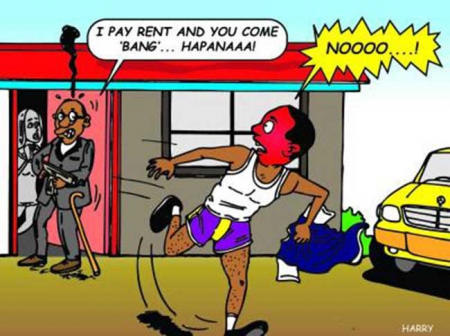 One Saturday night, a licensed firearm holder shot dead some young man he found in his 'sponsored' clandestine lover's house in Greenfields Estate, after he dropped in on her unannounced.
One of my editors called Malanda put it quite succinctly on Facebook: 'Look, your girlfriend is NOT your wife. You cannot just visit her like an ambush. Piga simu! Otherwise you will cry in the toilet of a cell. There's a reason our forefathers used to go home singing drunkenly and loudly to announce their imminent arrivals. They were not fools!'
My old man, when we were young, also liked to yodel his way to the house, just because many beers told him he was better than Abba at singing that song, 'Chiquititta' and that other one that goes 'siku hizi, nakuonya, usikihi ...' But I have all that comical trauma in the book 'Meet the Omtitas.'
Here are a few commandments for those young ladies, we now call them 'Cheryls,' who have sponsors.
One – thou shalt not invite your 'real' boyfriend, that hunk from college, to the house the sponsor is paying for. In fact inviting him over at night may be a potential death warrant for the young man.
Nothing enrages sponsor, shall we just call him 'Spencer' for purposes of this piece, than imagining he is putting up 30,000 for your rent, and then you are getting 'chewed' in the kraal he pays for. It destroys his ego; and the only thing more dangerous than the wounded pride of an old vengeful goat is an AP with an AK47 who just found out his woman is cheating on him.
Two – you are the trophy girlfriend of Spencer, so when he wishes to slap you on the bottom like a piece of meat in front of his envious friends, don't get offended. Because he bought you. That's right, Cheryl.
READ MORE
And when you are with him, say in Naivasha over the weekend, and you run into us, don't try to pass Spencer off as your 'kind, long lost uncle.' We know, you know ... and you know that we know.
When he gives you money for your hair (expensive human hair starts at Sh20,000) at the end of the month, don't dare, when you go home and listen to your mom moan how your kid bro, Charlie, was told not to return to school in June without the second term fees ... and give your 20 grand towards your brother's education. That money is for HAIR, and it is meant to keep you looking good for Spencer.
That was number three.
Fourthly, and this is a very important rule, Cheryl, headaches are for serious girlfriends and wives. When you are his cherry pop girl, you should be ready to rumble any time Spencer feels like.
Headaches, toothaches, tummy aches, cramps and other excuses will not be tolerated or accepted! After all, what do you take Spencer for, ukimuangalia? Some kind of dispensary?
Lastly, never except but never, ask your sponsor super stupid questions like – 'So, Spencer, when are you leaving your wife?' 95 per cent of the time, that question has only one outcome.
You ask him that swali on Saturday night, and come Monday when rent is due, he doesn't pay.
And disappears out of your life so completely you begin to wonder if Spencer actually even existed.