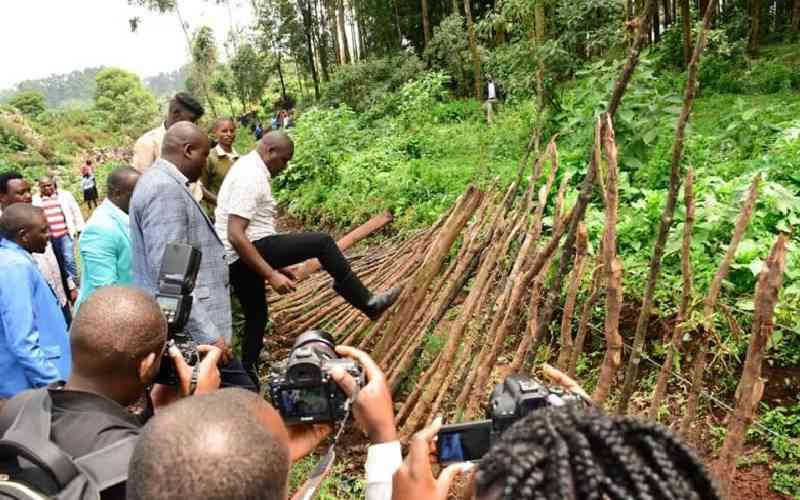 The County Government of Kericho has started the process of repossessing 20 acres of public land that had been grabbed.
Governor Erick Mutai said his administration will force occupants of some 199 parcels of land to surrender them for the purpose they were earmarked for.
According to a notice issued by the county on Monday, the land in question, located within the Kericho municipality, was either illegally or irregularly allocated to private developers.
Speaking after visiting Kericho, Litein and Kapkatet towns yesterday, Dr Mutai said "land sharks" would be forced to surrender the parcels back to the public.
"Kericho town, for instance, doesn't have room for expansion. The fight to reclaim parcels of land illegally or irregularly allocated to private developers across the county has begun," he said.
Already, the county has reclaimed two acres of land meant for the Kericho town dump site.
Mutai lead the county enforcement officers in pulling down a fence erected around the property after revoking the allotment letter and other land documents to the property given to a private developer.
"We have diligently gone through the allotment letter and we have established that the property belongs to the county government of Kericho. The allotment letter issued on the property is therefore null and void," he said.
Accompanied by County Attorney Gideon Mutai and County Secretary Joel Bett, Mutai said his administration had taken stern action to serve as a warning to land grabbers that the new county administration will reclaim all illegally acquired pieces of land in the county.
At the same time, he asked Bett to publish in the Kenya Gazette, survey maps and the pieces of public land which have been grabbed.
Related Topics