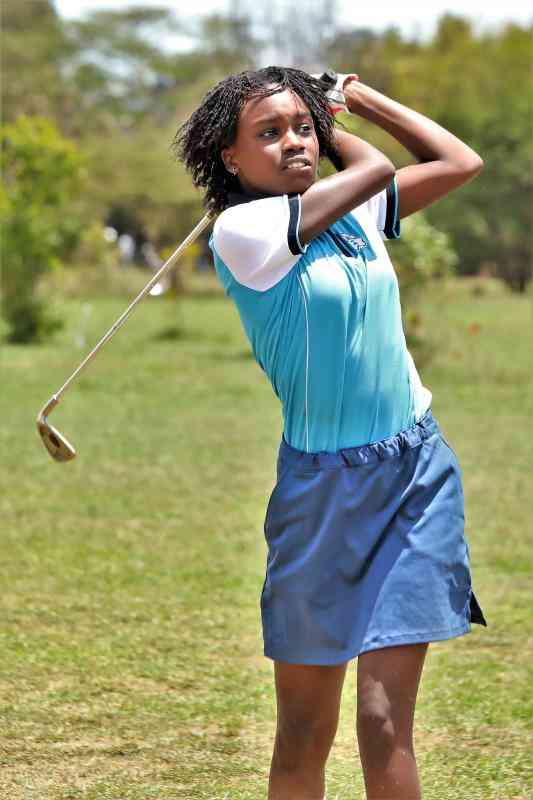 Home golfer James Warui is the 2022 Nanyuki Sports Club Chairman (Kuldip Hunjan) prize on a score of 42 stableford points.
Warui playing off handicap 14, carded an identical score of 21 stableford points to star during the Crown Paints sponsored tournament which saw a field of 106 golfers' participate.
On his front nine, he picked three pars on the opener par-four following it up with another on the second, also a par-four and par-five seventh.
Birdying the par-four fifth after hitting the green on two and draining an up-down putt to beat the tough pin position which stressed out golfers throughout the course.
Warui had his share of bogeys on the outward nine on the par-three, third, par-four sixth as well as, par-three ninth holes with a lone scratch on the par-four fourth but still managing a neat score of 21 stableford points.
After the midway break, psyched up by his good showing, he registered a bogey on the 10th as the conditions of play changed with the scorching sun but quickly found his mojo sinking a par on the 11th.
Sustaining his momentum with a birdie on the 12th that spurred him on, recording another par on the 13th.
Bogeying the 14th and 15th holes both par-four's.
Parred the 16th, a par-four before earning his only double-bogey from his round of 18 on the 17th, a par-five and wound up with a deserved par on the homestretch 18th, a par-three for 21 more stableford points to crown his win.
Falling short by two strokes from his practice round on Friday with his club mate, Njamba when he posted 43 stableford points.
"I'm delighted to win today though it has been a long time coming. I'm glad I won it during the Chairman's prize sponsored by Crown Paints for the third year running.
I feel it's my way of thanking them for supporting our chairman!" said Warui in his acceptance speech Trailing Warui with 40(21+19) stableford points was Engineer Joshua Kinoti to take Men winner prize with Vice- Captain Patrick Ekwam settling for Men winner second on a score of 39(16+23) stableford points.
Donning the Ladies gong on a score of 37(19+18) stableford points was Jenny Wachuka with Marion Githinji coming in second on a score of 35(19+16) stableford points.
Top guest player was Dr Fred Mugambi on a score of 36(19+17) stableford points while Junior prize went to Joseph Warui playing off handicap 31 upon returning a score of 31(16+15) stableford points.
In the Nines, Joseph Sylvester Githui won First Nine prize with 20 stableford points as Joe Wainaina won Second Nine prize on a similar score of 20 stableford points. Umraj Semhi outdrove the field to claim Longest Drive prize.
Seven twos were recorded by Khrishna Gurung on the third, James Warui on the 13th, Moses Muthoki and Mark Kirimi on the ninth. were, Savan Shah and Githinji Gachai with each winning seven golf balls.
Away at Limuru Country Club's Wambui Gitonga won the 13th leg of 2022 NCBA Golf Series after returning a 40 stableford points to win division one category at home Playing off handicap 18, Wambui fended off stiff challenge by club captain Gitau Ngaruiya, who closed his round with 39 stableford points, playing off handicap 13.
In the second division, Gitiria Kamau, playing off handicap 36, carded a round of 43 stableford points to top the division ahead of Dr. Gachuno, playing off handicap 26, who ended his round with a haul of 37 stableford points.
Related Topics