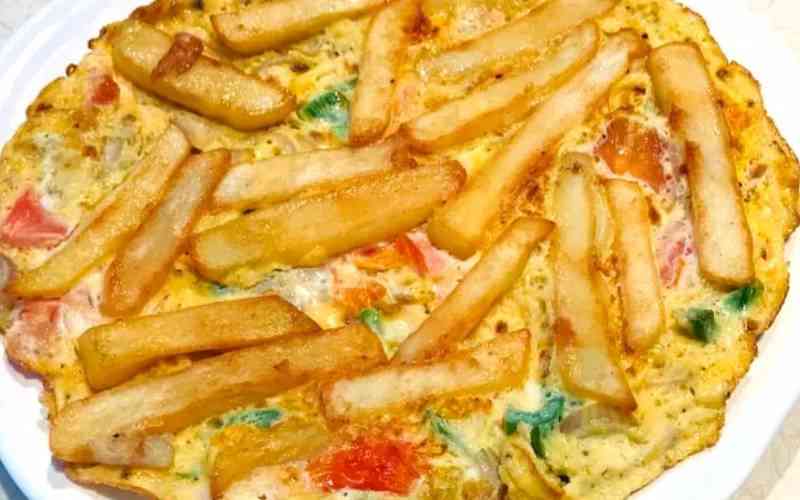 Chips mayai also known as chips omelette is a dish that comprises a mixture of fried chips, spices and eggs. Although this dish is common in Tanzania, its origin is contested in East Africa as it is also a delicacy in Kenya.
When you visit Tanzania, be sure to order this dish as it is one of the delicacies amongst the locals. The blend of spices leaves your taste buds doing summersaults and yearning for more.
The best part is that preparing this dish takes less than twenty minutes.
Here are the ingredients you will need to prepare this mouthwatering dish:
Fried potatoes
5-6 eggs
Two sausages (optional)
One large onion
One green bell pepper
Coriander leaves
Teaspoon of black pepper
Teaspoon of paprika
Teaspoon of thyme
Teaspoon of salt
Two tablespoons of vegetable oil
Method:
In a large bowl, dice the onions and green bell pepper into small cubes, add the finely chopped coriander leaves and mix.
Then add your black pepper, paprika, thyme and salt to the mixture and stir for some seconds to evenly mix. (All the measurements of the spices are above)
Next, cut your sausages into cube shapes (this is optional) and add it to the mixture and mix them together. Next, you will add in your fried chips slices, you can leave the chips strips whole or cut them to smaller chunks.
In another bowl, beat your eggs and add to the mixture.
Stir to spread the eggs evenly through your mixture. Ensure the eggs are enough to cover all your ingredients.
In a non-stick pan, add your vegetable oil and let it heat up on low heat. Pour your egg mixture into the pan and let it cook for about four minutes. Do not stir. You can use a lid to cover it to seal in all the moisture.
Once the mixture begins to dry, you will need to turn it over on the flip side to enable it to cook. Remember to use a plate while flipping. If you use a spoon you will break your omelette since it will be heavier than a normal omelette. Allow it to cook for about another four minutes.
You can let it cook for a few more minutes until you are certain the egg mixture is ready.
Once ready, cut it into small triangular portions for easier serving. Enjoy!
Related Topics