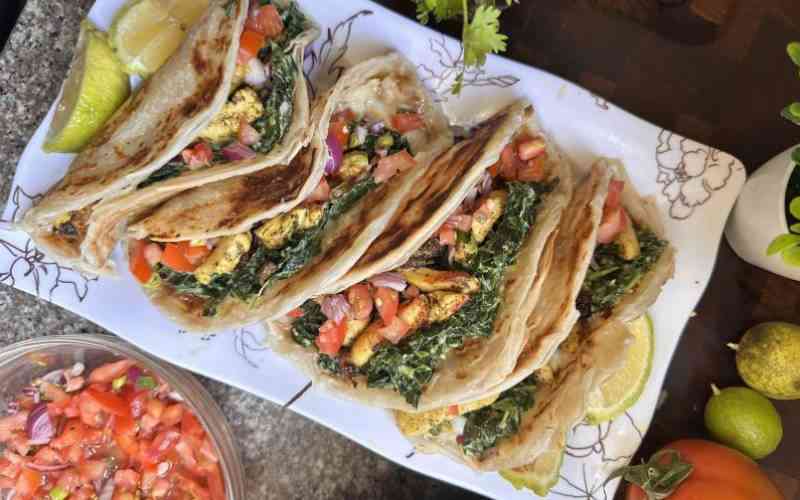 These Swahili-inspired tacos are a must try, a layer of coconut mchicha, sautéed chicken, mozzarella cheese and kachumbari goodness! So good so flavourful and delicious. Let's get cooking.
Here is what you will need:-
5 - 6 chapatis (cooked)
300g mozzarella cheese, grated
1 bowl kachumbari
For the mchicha:
1 bunch mchicha greens shredded
1 teaspoon garlic mince
1 tablespoon oil
2 beef cubes
150ml coconut cream
Method:
In a pan over medium heat add oil, and sauté the garlic until golden. Add the mchicha mix well, then crumble in the cubes. Once greens have reduced in volume, add coconut cream and cook for another two minutes, set aside.
For the chicken:
500g boneless chicken breast, cut into strips
1 tablespoon oil
2 chicken cubes
1 teaspoon black pepper
1/2 teaspoon turmeric powder
In a pan over medium heat put in the oil, go in with chicken strips, then add the turmeric powder and black pepper.
Cook until slightly golden. Now crumble in the chicken cubes and mix well. Cook for another 5 minutes or until the chicken is cooked, set aside.
To assemble:
Place cooked chapatis in a non-stick pan over medium heat and sprinkle a handful of mozzarella cheese on one side.
Fold the chapati halfway press it down with a spatula and warm it until the cheese melts, now open it and fill it with a layer of the cooked mchicha, cooked chicken and top with kachumbari.
Related Topics