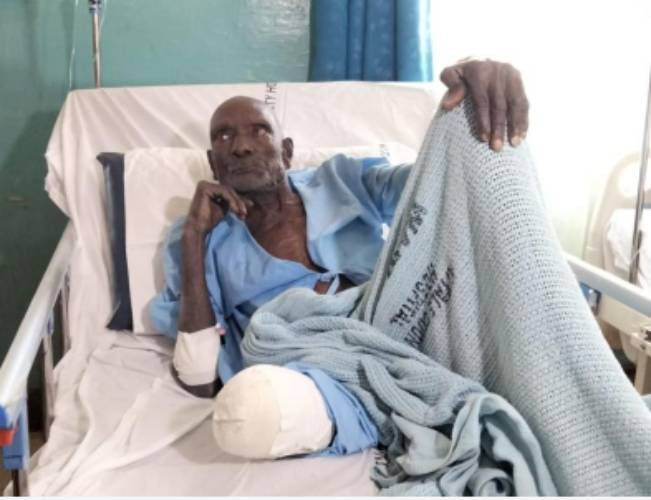 An octogenarian whose leg was last week amputated at the Kitale Level Four hospital after being diagnosed as gangrenous is appealing for help to offset his medical bills and provide him with shelter.
Masete Wanjui Mwasame, 86, a resident of Kibagenge village, Waitaluk ward in Kiminini sub-county, Trans Nzoia county, was taken to the hospital by a well-wisher who found him without help in his rickety mud-walled house.
According to Dr Dickens Omange, Mwasame's right leg was rendered unviable due to failure in blood circulation that resulted in a serious infection.
He said the leg had to be amputated as the last resort since it had begun to disfigure and would have resulted in the whole body getting the infection should it have been left intact.
"We had to amputate him above the knee to avoid spread of the infection to the rest of the body, and he is fairing on well despite the fact that he needs more support," said Dr Omange.
But Mwasame has no one to look upon since he lives alone in his single mud-house room thatched with old black polythene bags that act as the roof.
He has a hearing impairment and a croaky, shaky voice owing to his old age and the challenges that he experiences living without a helper.
Mwasame told The Nairobian that he can only remember he had a brother who was an administrator but was killed sometime back and has since lived alone.
"I am an orphan, my only brother who was a chief in Trans Nzoia was killed, and I am just alone. I appeal to well-wishers to support me by building me a house," he said amid a straining voice.
His memory appeared scanty as he could hardly remember much about himself or his family but rather emphasised on his appeal to also be supported with food items and a helper.
According to Dr Omange, the octogenarian needs help in appliances like wheelchairs and probably a prosthetic limb in the near future.
He noted that since Mwasame was able to walk before the procedure was carried out on him, a prosthetic limb would be vital for the 86-year-old patient.
Further, added Dr Omange, the octogenarian who hails from a strenuous socio-economic background needs counselling, further medication and an investigation into the cause of the condition.
The medic at the same time revealed that the patient needs food and nutrition and called upon well-wishers who could provide any form of support to the lone Mwasame to come to his aid.
The sentiments were echoed by his nurse, who said the patient was doing well but needed psychosocial support from well-wishers since there were no records about the whereabouts of his family.
"We were told that he lives alone in a weak house that is almost collapsing, and we are hence appealing to those who can offer help to assist this old man," she said.
Upon visiting his home, The Nairobian established that Mwasame lived alone in the makeshift house and that he had difficulties to manoeuvre in his daily activities since he was taken ill.
A neighbour, Fred Wanyonyi, said he learnt from other neighbours that Mwasame, who has an eighth of an acre of land, had been taken ill that he had a swollen leg with pus oozing out.
"He has a single sister who cannot even be traced. The man has been writhing in pain alone here and the sister is not a person of means, hence Mwasame has been deserted for long," said Wanyonyi, who could not also tell more of the whereabouts of Mwasame's family.
Wanyonyi also appealed to well-wishers and those with elderly homes to consider extending an olive branch to the old man who has been suffering alone. His medical bill stands at Sh63,000.
Related Topics