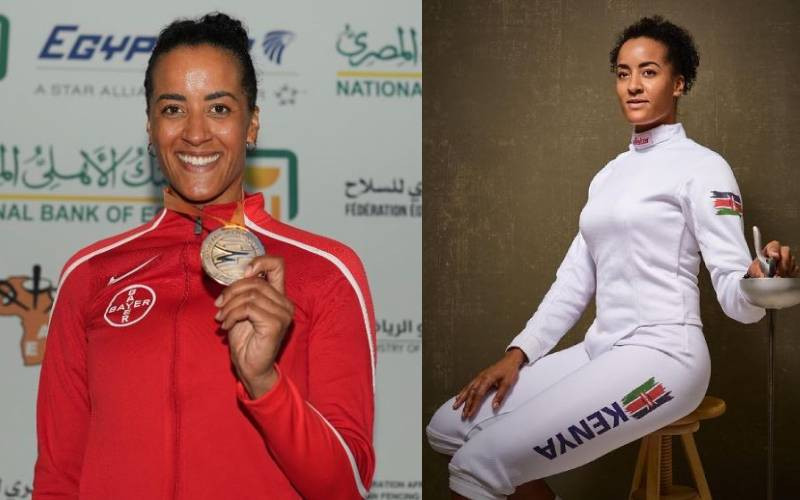 After representing Germany in fencing for 15 years, she has now shifted allegiance to Kenya.
In a list of women making history, you will find the name of the fencing star, Alexandra Malika Ndolo.
Alexandra is a 37-year-old with dual citizenship; Kenyan and German. She was born, raised and schooled in Germany, but Kenya holds a special place in her heart.
Alexandra learnt about fencing when she was about 10.
"I was running, horseback riding and swimming. So when I was doing this I found out about fencing and I ended up liking it," says Alexandra.
From that time, fencing became her passion and she proceeded to learn the sport until 2007 when she decided to specialise in it professionally.
To those who know her, fencing is more than a career to Alexandra.
She represented Germany for 15 years before shifting allegiance to her motherland, Kenya, in 2022.
At that time, there was a group taking part in the sport, but it was not recognised by the government until she stepped in, did the paperwork and made sure they were signed by the sports federation.
"I, however, felt like that was not enough impact so I decided to be the flag bearer of the country. I competed for Kenya to create awareness of the sport and most importantly, make history," says Alexandra.
Kenyans welcomed her with arms wide open.
She says it is always a good feeling being up there because "everybody is chasing you since it means you have achieved something and you end up having people who aspire to be like you."
Being a champion has a lot of positive impact, but at the same time, the pressures and expectations are numerous.
Her coming placed Kenya on the fencing championship map.
"I have a weekly routine - I train for six days a week, twice a day. I do interval running to get my stamina up, I do weight room and special exercise for fencing mainly footwork."
It is an intense routine as it also involves sparring sessions with her coach in a bid to improve her technique. She also takes part in friendly matches.
However, she breaks from the routine in August every year.
"I did not think it will be so difficult to get the financial aid. From the German system, I am used to being rewarded by the government once I bring results, but here in Kenya it has not happened yet," she says.
This is the biggest challenge Alexandra has experienced since she transitioned from being a German fencer, and it has cost her a lot.
She has this painful memory. "I had this one competition where I ate bread for four days because that was the cheapest food I could find," she says.
Self-sponsorship has landed her in Sh3 million debt.
"I like Ferdinand Omanyala and Angela Okitoyi, the tennis player," she says.
When she is not working on her fencing career, Alexandra loves to sing and model.
She urges aspiring fencers to take one step at a time since success is not a one-day achievement.
"If someone comes to you and tells you they can make you a star within a year, run the other way because success requires patience, hard work and for one to believe in themselves," she says.
Related Topics