Home
/
Health
Kenya's Fred Beuchi awarded the IBE Golden Light Award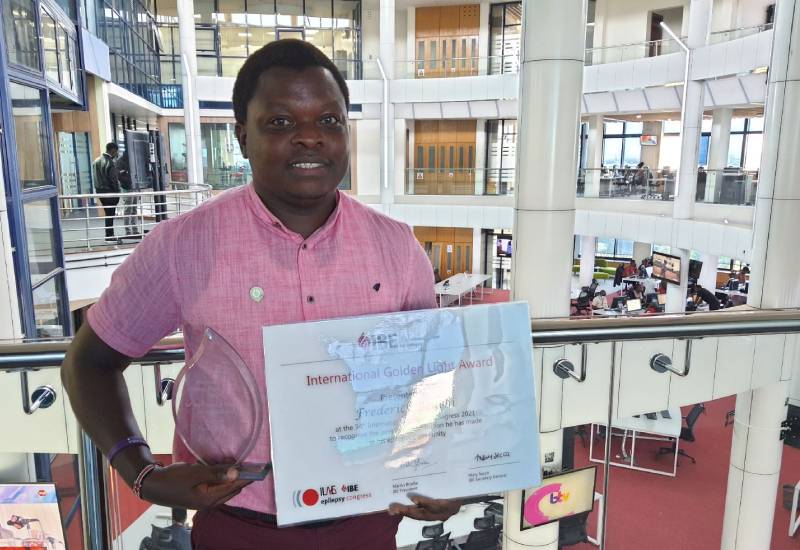 Kenya's Fredrick Beuchi has been recognized for his worthy course in championing epilepsy awareness campaign in the country by the International Bureau for Epilepsy (IBE).
Beuchi, a renowned epilepsy activist in Kenya, was among the 19 global nominees presented by the awards during the IBE Day at the 34th International Epilepsy Congress held in Paris, France.
Speaking to Eve after the ceremony in Paris, Beuchi reiterated the impact and inspiration of receiving the award saying that he will use his new role as a global ambassador to champion more awareness campaigns and to launch an initiative to support young girls living with epilepsy in honour of his sister.
"This award gives me an opportunity to confidently champion for the epilepsy awareness course beyond just sharing information with people but also thinking about what next after the public has been sensitized," he said.
Inspired by his younger sister, Mercy Kwekwe, who was diagnosed with epilepsy at the age of two, the 31-year-old has been relying on his counselling background to inspire and give hope to the youth living with the condition for the past eight years. When he is not serving as the secretary of the National Epilepsy Coordination Committee in Kenya, Beuchi is out preparing for his next awareness 'challenge.'
Last year, as the world grappled with the COVID-19 pandemic, Beuchi was organizing and taking part in an Epilepsy Awareness Challenge that involved a three-day 327km cycling from Nairobi to Arusha and a six-day hike climbing Africa's highest mountain, Mt. Kilimanjaro, in a bid to reach millions across the continent with information about Epilepsy.
This was not Beuchi's first Epilepsy Awareness Challenge. In 2018, he walked a distance of 482km from Nairobi to Mombasa, for 12 days, in a sensitization campaign to encourage mothers to deliver in hospitals to avert the risk of infants getting head injuries which may cause epilepsy.
At a personal level, Beuchi wants to use his newfound opportunity to propagate awareness and support girls living with epilepsy. In light of this, for the 2021 Epilepsy Awareness Month - November - he plans to launnch the Mercy House for Girls with Disability, a platform for supporting girls living with epilepsy access medication.
"The initiative [Mercy House of Girls Living with Disability] will not only support the young girls access medication but it will also support those with controlled seizures begin trainings on hands-on skills that can help them live independent lives," he revealed, adding that: "The initiative also seeks the support the education of the girls by looking into their basic needs so as to enable them focus in their education. Those with talents will also be assisted to develop their talents."
The International Bureau for Epilepsy Golden Light Awards recognize and reward individuals who make positive impact on the lives of those who are affected by or live with Epilepsy. The awards are a symbol of the body's mission to 'bring epilepsy out of the shadows and into the light.'
Related Topics