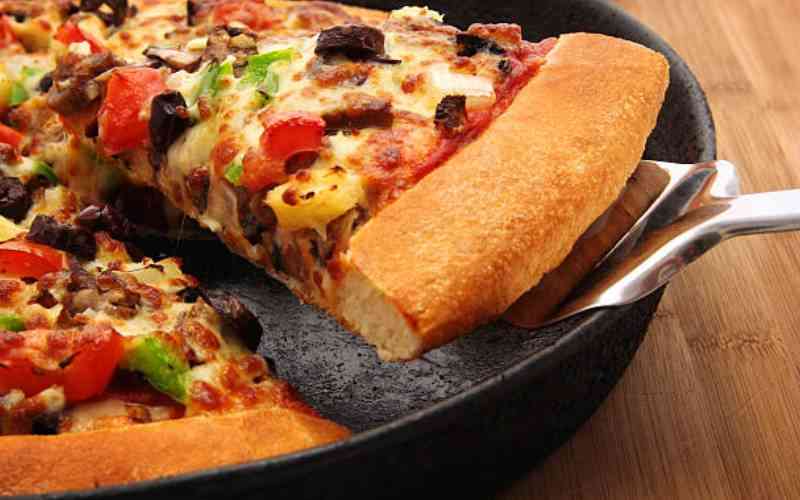 Pizza is easily one of my favourite comfort foods. The rich crusts and infinite number of flavours make it one of those cheat day meals you can have over and over again.
Another reason to be obsessed with pizza is the variety of ways to prepare it, like pan pizza style and hand-tossed pizza style. These different cooking methods can create a whole new version of a pizza you've had before, which is perfect for pizza lovers.
So let's take a look at what all the fuss is about. Its thick, fluffy texture and satisfying crust are hard to resist. And best of all, it's so easy you could probably make it at home, so here are the steps:
Ingredients:
1 cup bread flour or all-purpose flour
½ tsp salt
½ tsp sugar
½ tsp dry yeast
½ tsp garlic powder
3 tbsp olive oil
½ cup milk
Pizza sauce
Mozzarella cheese
Toppings of your choice
Step 1
In a clean bowl, pour in the flour, salt, sugar, dry yeast, garlic powder, olive oil and milk starting with the dry ingredients. Mix them all together and knead until you get a sticky dough. If the dough is too stiff, add some milk a bit at a time until you get a sticky texture.
Continue to knead well and you will know the dough is ready when you can stretch it enough to get a thin sheet without it tearing.
When it's ready, roll it into a smooth ball, place it back into your bowl and cover it. Let it rest for about an hour until it rises.
Step 2
For this next step, you will need a deep pan preferably cast iron or a deep, nonstick, oven-safe pan. This is what will give your pizza the classic thick crust.
In the pan, pour in a tablespoon of olive oil and some salt and seasonings of your choice if you want to give your crust an extra kick.
Next, you will coat the pan with this oil, place the dough in and stretch it gently from the centre outwards until the bottom of the pan is covered. Stretch it slightly upwards around the edges since the dough will shrink slightly and coat the dough once more with one tablespoon of olive oil so it doesn't dry out. Let it set and puff up for a few minutes.
Step 3
While the dough is puffing up, you could prepare your toppings. Grate the mozzarella cheese and set it aside, and if you have some fresh herbs chop them finely and set aside.
You could also prep any bacon, pepperoni, sausage, ham and other meat toppings you would like.
Step 4
Once the dough is ready, switch on your cooker to medium heat and place the pan for the dough to cook at the bottom. Meanwhile, preheat your oven for about 15 minutes at 290°C.
The dough should be ready when the bottom starts to burn for you to get a crunchy texture and full flavour. Use a spatula to lift and check then remove it.
Next, you will generously spread the pizza sauce followed by the cheese and finally the meat toppings if you have any. Place it in the oven and let it bake for about 15 minutes.
Step 5
Once the top turns golden brown and bubbles, it should be ready. Remove it, place it on a cutting board, slice it and enjoy!
Related Topics