6 gym rules you must never break
Fitness - By
Bob Otieno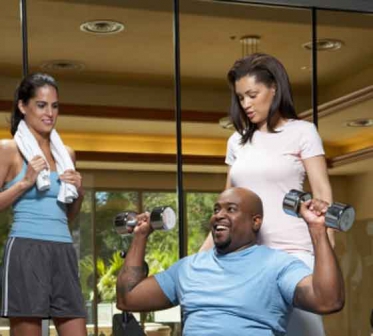 Majority health club facilities and gyms have sets of rules patrons are supposed to follow. The rules are usually posted somewhere visible and are meant to bring order among patrons. It actually reminds them to be polite and considerate to other gym users.
This week we go through some of these rules and show you how to tell whether your rights are being abused or not.
Don't hog on a machine, take turns: You are not the only gym user. Many other members may be waiting in line to use the same machine. This usually happens especially at peak hours when the facility is crowded. Before you get on a machine, it doesn't hurt if you take a courtesy check to know whether someone else was waiting to use the machine but again you also have a right to use it, let the person in charge intervene in case of a problem.
Have an attractive appearance: Since some fitness facilities may not have rules about certain apparels i.e. men may not be allowed to go topless or women not allowed to train only in their sports bra without a T- Shirt on, be sure your appearance does not intimidate other gym users. You can also wear proper footwear like nice gripping sports shoes and socks to help absorb sweat and odour.
Hygiene: Sometimes we run out of time and after running errands the whole day there's that temptation of just slipping into our training gear, get over with the gym and take a shower afterwards. It is good to be considerate of others also using the gym, always freshen up before jumping onto any machine. If you have to use a perfume, don't overdo it. Some scents can be offensive or distractive to other gym users and may even cause problems for those who are asthmatic or have allergies.
Make sure you put back weights or workout equipment after use: When you finish using equipment, such as mats, dumbbells, training balls and ropes, put them back where you found them so that others can easily find them.
Clean up machines after use: Always clean up your mess. Don't leave your sweat all over a machine.
READ MORE
Learn to be quiet: As much as you may still consider the facility as a social place, talking too much or too loud can irritate others since their main focus is purely on working out. If you have to talk, keep it low.