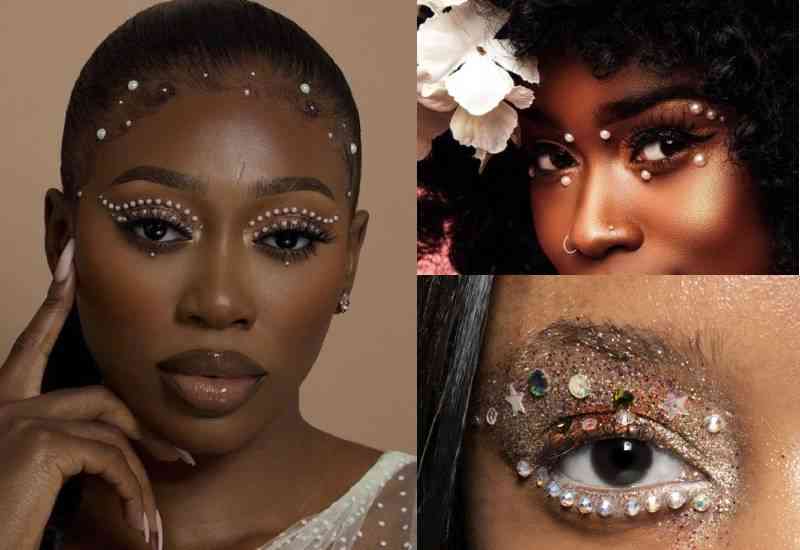 Whether you refer to it as festival or mesmerising makeup, bling is being embraced in many ways, allowing you to explore every imaginable expression. This instant mood booster is easy to crack
Prep
A greasy, oily canvas will not hold. For the fantasy makeup to stay in place, shine must be controlled. On a clean face, create a base by applying an oil-free moisturiser, sunscreen, and long-wear fluid powder foundation.
Set the makeup with a little powder and setting spray for long wear to give your skin that natural finish.
What you need
Set aside different sizes and types of rhinestones, crystals, diamantes, and sequins for better results. Here is how this works. The wide variation of bling will refract light differently, making your makeup more multi-dimensional.
You will need some cosmetic or eyelash glue and tweezers to help you carefully place the gems at the corner of the eyes for a subtle glint or generously for that amplified sparkle.
How to do it
Recreate the outcome you want before you start. You can use a photo inspiration or visualise the results to save time. Once your makeup has set, squeeze some glue into a piece of paper.
Use the tweezers to pick your bling of choice and dip it in the glue lightly. Carefully place it where you want it to go then gently press it until it has stuck and won't budge. Repeat until the process is complete.
Tips:
The stronger the glue, the longer your bling will stay on. Ensure it is cosmetic grade otherwise it will cause skin reactions and irritations.
If you are a newbie, start small. Recreate crystal constellations by applying tiny gems or pearl beads on the outer and inner corners of your eyes to highlight your eyes without doing the most.
Related Topics