MAARUFU MOHAMED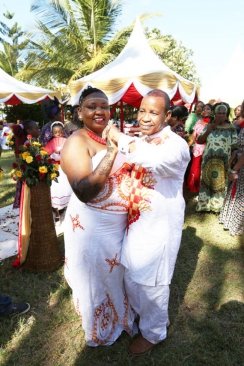 BRIDE: Alice Akoth Odindi
GROOM: Jeffrey Mitchel Mponda
GUESTS: 300
DATE OF WEDDING: April 18, 2015
VENUE: Nyali Reef Beach Hotel
BUDGET: Sh800,000
READ MORE
FIRST DATE
ALICE: I met Jeffrey at a family function in April last year. I had been invited to the event by his nephew who was my colleague at work. Jeff asked me out but I turned down his request.
JEFFREY: I had seen Alice earlier around October 2013 but by then she was occupied so I shied away from approaching her till the day of the memorial. I waited and approached her when she was alone. I was so surprised when she turned down my offer for dinner but I wasn't discouraged.
When we had dated for eight months, she invited me to her place. It was in November 25, 2014. I still remember she wore a short red flowery dress and the colour of her curtains and what she cooked for me "mabenda" (okra) stew, fish and rice.
THE PROPOSAL
ALICE: One evening, he asked me out for dinner. He asked me what I wanted to eat and I said Chinese. After dessert at the restaurant, Jeff got down on one knee and proposed. I started laughing since he looked funny on his knee and I thought he was joking.
JEFFREY: I had planned to propose and even met her cousin two days earlier. He helped me find out the size of her ring finger but promised to keep it a secret till after the proposal. When I did propose, indeed Alice laughed and I thought she was going to say no but then she stopped laughing and also knelt down on the floor with me.
THE DRAMA
ALICE: The chef who made our cake forgot to bring champagne so we had to toast with soda and the MC made everyone laugh by saying that I had never taken alcohol all my life as I was a strong Christian.
Then the management of the hotel where we had planned to do our photoshoot decided to change the terms at the last minute suggesting that only me and my husband could take photos but not my maids and entourage. I felt bad since it's only through such photos that you relive such a day.
JEFF: The DJ and sound guy refused to play any music demanding full payment and we had to hurry things up before the bride arrived because it was all quiet. My best man forgot the rings but, luckily, my nephew went for them and arrived in time as the vows were being said. I was really scared we would get to the part of the rings before they arrive.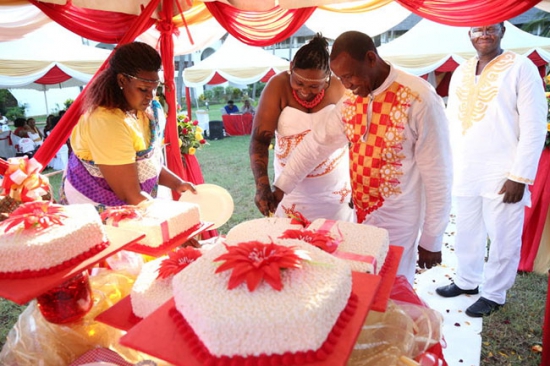 WITH HINDSIGHT
ALICE: Always put God first in everything you do. Family is important. Value everyone's contribution when planning. You never know when someone's contribution will come in handy.
Always have an open mind in your wedding planning as disappointments are there and if you are not prepared, you can get a terrible shock. Above everything, pray and let God do his will.
JEFFREY: Patience, humility and understanding is very essential in one's life and above all put God first. Always involve your family and friends in your plans and also value their contributions.
ALICE: Always know that people can disappoint you but always have an open mind. Above everything, pray and let God do his will.
WORDS AND PHOTOS: Maarufu Mohamed