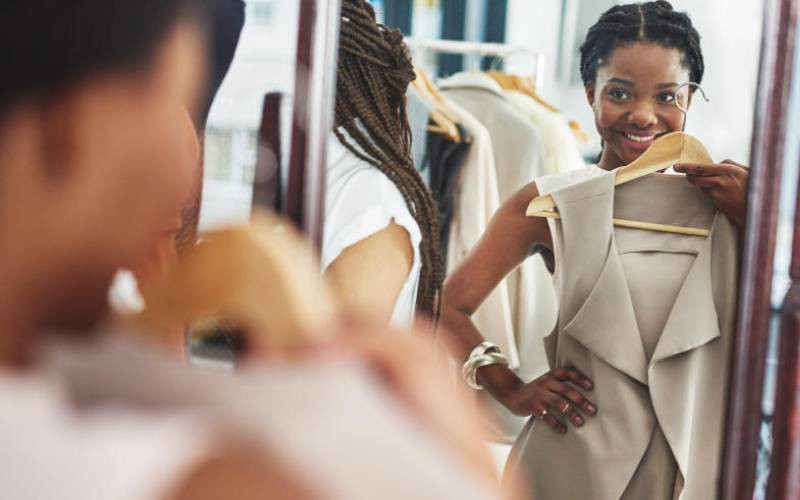 When you are trying to have an up-to-date and functional wardrobe, limited closet space can be a formidable adversary. However, with a dash of creativity and some strategic organisation, you can transform even the tiniest closet into a fashion haven. Whether you live in a tiny bedsitter or you have a walk-in closet but it still isn't enough, you can make the most of your limited closet space without having to give up on your best pieces.
Declutter and prioritise: Assess each item and ask yourself whether you need it. Donate or sell items you haven't worn in a while to make room for your favourite pieces. Once you have streamlined your collection, prioritise your most-used and cherished items.
Space-saving hangers: Traditional hangers can consume a significant amount of closet real estate. Go for slim, space-saving hangers that maximise hanging space. Velvet or flocked hangers not only save space but also prevent clothes from slipping off. Consider using cascading hangers for pants and skirts to create more room. These can be bought online or from stores that sell household products.
Utilise vertical space: Look beyond eye level and take advantage of the vertical space in your closet. Install additional shelves or cubbies above your hanging rod to store items like hats, handbags or shoes. Use baskets or bins to keep smaller items organised and prevent them from cluttering your shelves.
Fold strategically: Not everything needs to be hung. Fold items like sweaters, jeans and t-shirts to free up hanging space. Use shelf dividers to keep stacks neat and easily accessible. Adopt the KonMari method for folding to maximise space and maintain a tidy appearance. YouTube and TikTok have lots of folding hacks you can use.
Get a closet organiser: Consider installing a modular closet organiser or adjustable shelving system. These systems allow you to customise your closet layout based on your specific needs. Incorporate drawers, shelves and hanging rods to create designated spaces for different types of clothing and accessories.
Slim storage solutions: Opt for slim storage solutions that can slide into tight spaces. Under-bed storage containers or rolling carts can house seasonal items or accessories, keeping them out of sight when not needed.
Rotate seasonal items: Store out-of-season clothes in vacuum-sealed bags or storage bins to create space for current wardrobe-essentials. This not only saves space but also keeps your closet visually appealing and easy to navigate.
Double up on rods: Install a second hanging rod below the first to double your hanging space. This is especially effective for shorter items like shirts, blouses and skirts. Use the lower rod for less frequently worn items or those not in season.
Door and wall hooks: Make use of the back of your closet door or available wall space with hooks. Hang accessories, scarves or even a shoe organiser on the door to maximise storage without taking up precious closet space.
Create a capsule wardrobe: Consider adopting a capsule wardrobe approach. Focus on versatile, mix-and-match pieces that can create various outfits. A smaller, curated collection can alleviate the pressure on your closet space and simplify your daily dressing routine.
Related Topics