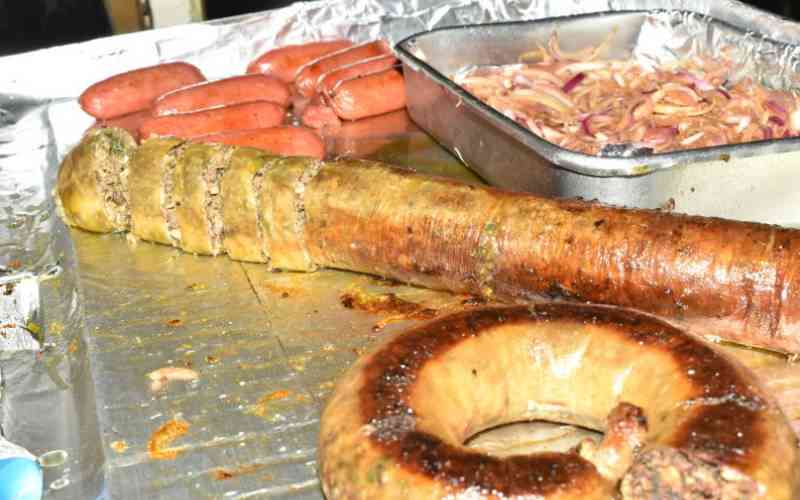 In the heart of Kenya, there exists a culinary treasure that tantalizes the taste buds of both locals and adventurous food enthusiasts from around the world.
Known as "mutura," this flavourful delight is not only a beloved street food but also an integral part of Kenyan culture.
However, this is not just any sausage but a unique, spicy, and savoury delight that has its own special place in the hearts of Kenyans.
Also known as American blood sausage, it is made up of a mixture of minced meat, organ meat like tripe spices and sometimes blood.
It is a popular street food in Kenya, especially in urban areas like Nairobi where you can find it being grilled on makeshift grills along the streets, enticing passersby with its aromatic smoke.
Ingredients:
½ kg of minced meat (beef, goat, or pork)
¼ cup of fresh blood (optional)
Three large onions (diced)
Two cloves of garlic (minced)
One tablespoon of ginger (grated)
One teaspoon of cayenne pepper
One tripe of approximately 200 grams
Cooking oil
Salt
Black pepper
Instructions:
Cook the onions and garlic in oil until golden brown.
Add in the minced meat, grated ginger, cayenne pepper, salt, and black pepper. If using blood, add it to the mixture and mix well.
Cook for about three minutes. Put the mixture in the uncooked tripe and tie both ends firmly.
Grill the rolls over an open flame or on a barbecue until they are cooked through. Slice into bite-sized pieces and serve hot with kachumbari.
Related Topics