The Standard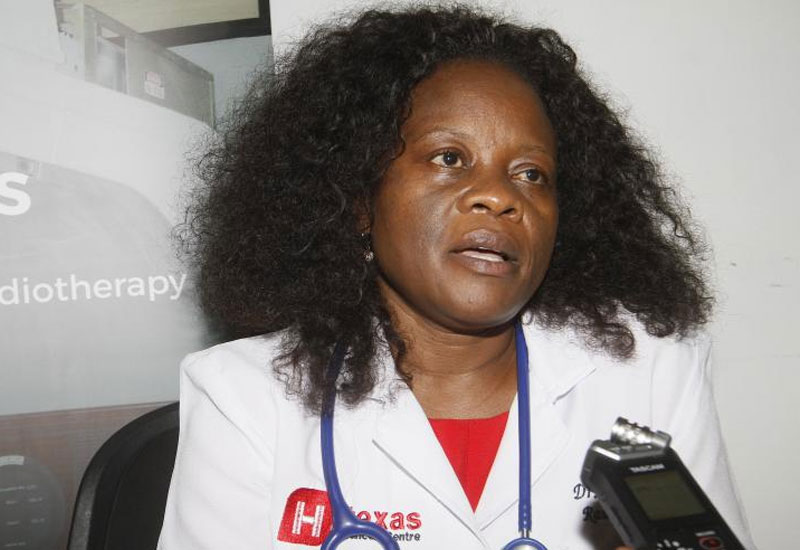 Mercy Wanjau, 39, remembers her ground spinning at Mathari Hospital in Nyeri as the doctor handed the results of her biopsy. She had stage four non-Hodgkins lymphoma, and she needed to act fast.
ALSO READ: Ask the doctor: What is the link between milk and cancer?
"I broke down and wept. My husband had died in a road accident a few years before, and I was imagining how my child would be orphaned so young," she says.
It had started last year with loss of appetite and weight loss that was so sudden and fast, everyone would ask what was ailing her. She had no symptoms, save for the night sweats and chills that would come intermittently. Visits to local hospitals in Nyahururu treated her for ulcers and low blood levels. A cancer diagnosis, she says, was the least of her expectations.
"Nobody prepares you for what is ahead -- the financial struggles, emotional turmoil and physical pain that comes with it," she says.
The chemotherapy side effects hit hard. Then came news that she had exhausted her NHIF cover and needed to dig into her pocket to save her life. Working as a tea girl in an office meant her salary was not enough to pay for the Sh70, 000 upfront payment needed for a CT scan, and the cost of subsequent chemotherapy.
"As a cancer patient in a low-income household, you have to be ready to beg and ask for help," she says, solidifying the reality of what it takes to treat cancer in Kenya. Although she considers herself lucky to have gone into remission and still undergoing treatment, many others have not been as lucky.
Cancer is ranked as the third cause of death in Kenya after infectious diseases. Data from the Kenya Cancer Network estimates that there are 40,000 new cases of cancer each year, with more than 27, 000 deaths per year. The network estimates that about 60 per cent of those affected by cancer are younger than 70 years old. The leading cancers in women are breast and cervical. Among men, prostate and oesophageal cancers are most prominent.
Despite the alarming figures, a cancer diagnosis digs into the pockets of families, with many patients and caregivers giving heart breaking tales of what it takes to treat the disease.
Deborah Chebet says when her husband was diagnosed with lung cancer in 2016, they sold everything to cater for his treatment at KNH and later in India.
"I had to quit my job and sell our farm, hoping that he will get better. He died and left me in so much debt. Whenever I hear the word cancer mentioned, I still get chills," she says.
Data from Afya Smiles Kenya, a premier health website, estimates the costs of chemotherapy to be between Sh10, 000 and Sh82, 000 per session in a public hospital, and Sh35, 000 to Sh500, 000 per session in private hospitals.
It costs between Sh172, 000 and Sh759, 000 to treat cervical cancer without surgery in Kenya and Sh672, 000 to Sh1.25 million if one undergoes an operation, according to researchers from the National Cancer Control Programme and the National Cancer Institute, Kenya.
Patients seeking basic treatment for breast cancer pay between Sh175, 200 and Sh1.98 million while the cost shoots up to between Sh758, 000 and Sh2.48 million when surgery — which would be either a lumpectomy, quadrantectomy, partial mastectomy, or segmental mastectomy — is involved.
Treating prostate cancer in Kenya costs between Sh138, 000 and Sh1.21 million, while oesophageal cancer costs between Sh1 million and Sh126, 000.
These costs exclude supportive and rehabilitative care and further investigations undertaken within treatment.
On average, a patient can spend over Sh1 million on cancer treatment.
Dr Catherine Nyongesa, founder of Texas Cancer Centre, says treatment cost varies depending on the hospital one is admitted to whether private or public and also the type of cancer.
"Drugs suppliers should review their prices and more cancer experts should be trained. Treatment should be devolved to all the 47 counties and people should enrol for NHIF," said Dr Nyongesa.
Grace Gitau, founder of Grace Wanjiku Cancer Foundation (GWMCF) talks about the importance of cancer screening, saying her brother's early diagnosis saved his life. "My brother had Aquamous carcinoma but it was in the first stage. He did not go through chemos and radiotherapies and thanks to NHIF, we didn't pay anything. We only bought an artificial leg at about Sh50, 000," said Ms Gitau.
Statistics indicate that every day, at least one person is diagnosed with cancer in Kenya and 10 people weekly. Statistics further show that more than 10, 000 people travel abroad each year to seek treatment, and among those, a staggering 70 per cent are going to seek cancer treatment.