Wanja Gathu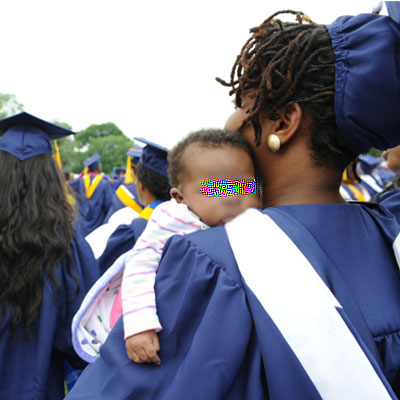 For many women, conceiving and carrying a baby to term is not only a blessing but also cause for celebration. Indeed, some women have been known to go to great lengths to become mothers. But for some, a baby is the worst thing that could happen to them.
ALSO READ: President Uhuru Kenyatta issues directives on increased cases of gender-based violence
These are girls in the prime of their youth, whose hunger for education far outweighs any dreams of motherhood. That notwithstanding, many girls in universities and colleges across Kenya are finding themselves in the family way.
According to Jacklyne Okello, the Registrar at Marist University College, the problem of student mothers has grown to disturbing proportions. "Many girls are falling pregnant in the course of their studies and disrupting their lives. Some even fail to finish school and others are forced to re-sit exams or go away with incomplete transcripts," says Jacklyne.
Jane Kibera, 21, is the mother of a one-year-old girl and a fourth year student at Africa Nazarene University. She was 19 when she met and fell in love with the father of her child, also a student.
ALSO READ: 'My husband's mistake with suitcase exposed his double life and second family'
"I didn't know I was pregnant until three months later. It was after I fainted that the school nurse confirmed my worst fears. Accepting that was the hardest thing I have ever had to do," she says.
The pregnancy forced her to drop out of school, returning only after the baby was born. And then she had to deal with the stigma from other students, friends and neighbours.
She said the university, which is Church-run, showed its displeasure by preaching against pre-marital sex when all she needed was counselling on how to manage her situation.
Her boyfriend, an older student, was supportive during the pregnancy and after the baby was born but soon after he got a job, things changed.
ALSO READ: Meghan Markle claims she was 'unprotected by the Royal Family' while pregnant
"He no longer had time for me or the baby and when he came by, all we did was fight, so we broke up and decided to co-parent the child," she says.
For Josephine, 19, life changed drastically for the worst when she found herself in the family way as a student at the University of Nairobi.
"My parents were so angry with me. My dad, a university professor, demanded that I pay for my child's healthcare even though I didn't have a job, and my mum forbade the maid to help with the baby. When she cried at night, my dad would shout, 'Can you shut that baby up?' My mum clicked her tongue when she grudgingly helped put her to sleep. I felt like a failure."
Josephine's boyfriend left all responsibility of raising the baby to her. She was forced to put up with the unfair treatment at home.
While she was in first year, Judy fell in love with a fourth year student and got pregnant just after one intimate session. The discovery threw her life into such turmoil that she contemplated suicide.
"When I told my boyfriend I was pregnant, he candidly told me to get an abortion and when I refused, he abandoned me. I desperately needed his emotional support and when that was not forthcoming, I turned to my mum," she says.
Her mother, a professional counsellor, is the reason she and her baby are alive and well today.
"My mum has been there before, during and after my baby was born," says Judy.
While many girls are able to return to university, many others die having abortions while still others drop out of school and endure humiliation and stigma throughout their lives.
Jacklyne advises parents to give their daughters the support they need.
"Your daughter needs to know that despite her mistakes, she is still worthy of love and respect," she says.
Photo: www.blackpressusa.com