Home
/
Achieving Woman
Umra Omar: Lamu doctor among UN list of global real-life heroes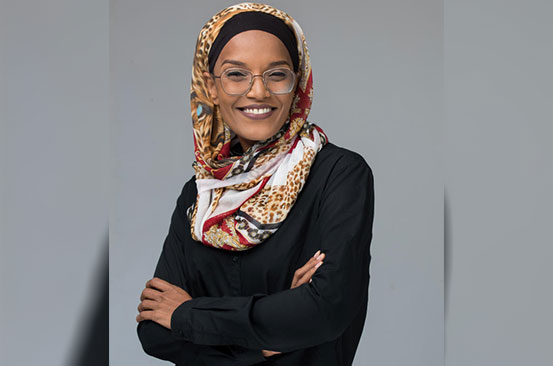 Today is World Humanitarian Day and a special tribute this year is being paid to health workers who have gone above and beyond the call of duty to ensure that those around them can access medical care.
Kenya's Umra Omar is one of 19 heroes from 16 countries who will be recognised by the United Nations for her selfless efforts in bringing healthcare services to the doorsteps of marginalised communities in Lamu County.
The recognition is well-deserved. But Omar would not be basking in the spotlight if she had not made the momentous and life-changing decision five years ago to move back to her native Lamu, abandoning the cozy life her job as a health communications consultant afforded her in New York City, USA.
Omar was not only returning to a region that in 2014 was rocked by insecurity as Kenyan security agencies battled to contain the growing Al Shabaab threat, but she also had a 10-month-old baby to care for.
Urgent need
She told The Standard that hers was a spur-of-the-moment decision. She was in Lamu on vacation when she noticed the urgent need for more accessible healthcare and felt a responsibility to address it.
And what better way to make a difference than to pick an abandoned healthcare project and nurture it back to life?
"We started off as a modest mobile healthcare programme where we travelled to get to rural communities in Lamu County, especially those that are far from dispensaries, and face stockouts," the 37-year-old said.
After a few weeks, Omar noticed the project's impact on the poor and marginalised communities and felt she had to expand it. That was the genesis of Safari Doctors, a unit comprising a dozen or so healthcare workers who traverse the archipelago to provide isolated communities with medical care.
Over the last five years, Omar and her small, dedicated team have travelled to at least 17 villages each month via boat rides in choppy waters or over rough terrain in their quest to ensure even the most remote residents and their animals can access life-saving medication.
Safari Doctors has made gradual yet steady progress since its launch. Omar says the organisation, where she serves as a director, is working to set up its first static clinic near its headquarters in Shela Island.
From treating 100 patients each month out of a population of more than 40,000 people, the organisation now attends to the health needs of between 1,500 and 2,000 patients, and saves them tedious trips to a handful of health facilities.
"Lamu is difficult because we are geographically and culturally complex, and the infrastructure is underdeveloped. The geography and socio-economic realities mean that healthcare provision requires all hands on deck," said Omar.
The latest challenge has been the Covid-19 pandemic, but that has not stopped this dedicated team from serving the underprivileged.
Omar's dedication has not gone unnoticed, both by the communities she serves and the global village.
Barely two years after she established Safari Doctors, she received the 2016 CNN Heroes Award alongside nine other recipients.
In 2017, the United Nations named her Kenya's UN Person of the Year. That same year, Omar won the African Leaders for Change Award, made it to OkayAfrica's list of 100 top women, and was on the Business Daily's Top 40 under 40 Women list.
Last year, she was recognised by the World Economic Forum as a Young Global Leader and named the 2019 Aurora Forum Goodwill Ambassador.
Speaking on today's UN award, she said: "The recognition is just a huge testament that we are doing the right thing in the right place and that there is a narrative that needs to be scaled up to address rural healthcare realities.
"We are really onto something here. These entities have recognised that the Safari Doctors team is capable, and healthcare is in our hands."
Omar added that the recognition and the results she has achieved so far are proof that Kenya can localise solutions to its health challenges, particularly through public-private partnerships.
The UN, in a statement accompanying the announcement of the heroes, said: "The dedication, perseverance and self-sacrifice of these real-life heroes represent the best of humanity as they respond to the Covid-19 crisis and the massive increase in humanitarian needs it has triggered."
Critical services
The UN is also launching the #RealLifeHeroes campaign to pay tribute to humanitarian and health workers on the frontlines of different crises across the world.
It stated that the campaign's purpose is "to pay tribute to selfless humanitarian workers who are risking their lives for their communities amidst the Covid-19 pandemic, and doctors and nurses who are continuing to provide critical healthcare services amid other dangers such as attacks.
"With the Covid-19 pandemic, humanitarian workers are being tested like never before, having to overcome challenges such as movement restrictions and limited funding, while putting their lives at risk."
If you didn't have to sleep, what would you do with the extra time?
Related Topics