Home
/
Fitness
7 of the best free fitness apps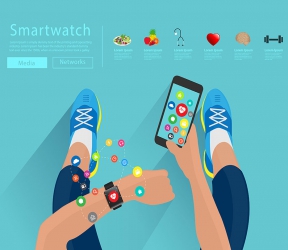 There are literally hundreds of thousands apps to choose from – and that list grows longer every minute! We bring you the seven best to get you motivated, challenged with new workouts, enable you to easily track progress and swop ideas with like-minded folks. Download them on your phone or tablet and get your fitness on.
THE JOHNSON & JOHNSON OFFICIAL 7 MINUTE WORKOUT Perfect for: Time strapped types For all those who manage to make time an excuse literally every time you are supposed to get a workout in, this one's for you! One, it will match whichever intensity level you prefer and two, it is really easy to use! For most of the workouts all you'll need is a chair.
SIMPLY YOGA Perfect for: Yoga beginners Is the thought of going for an actual class daunting? Then this will be the perfect way to ease into the whole yoga affair. Three different routines will help you get familiar with the twisty poses and holds and you'll be keen to sign up in no time.
MY FITNESS PAL Perfect for: Watching your weight This user-friendly app has a huge food database that will help you track down what and when you're eating and to better keep those dreaded inches from creeping back into your life. It will also track your activities and show you how many calories you're burning.
STRAVA Perfect for: The outdoorsy types For those who are serious about their fitness but prefer the great outdoors to a stuffy gym, you can track your exercises beautifully with the free version of Strava. With this app, you will see what fellow cyclists or runners nearby are clocking and put your competitive cap on.
FITBIT Perfect for: Fitness tracking This is a really great app that's been around for a while but still remains one of the best fitness trackers out there. Their range of cool wearables and scales make it all that better.
JEFIT WORKOUT Perfect for: The Gym Goers Best for those who want to create a more personalised routine at the gym. This little gem will also help you keep better track of your sets, reps and routine sequence, rest days and go-hard days. You can log in your progress too. A sure winner.
RUNTASTIC SIX PACK ABS Perfect for: Tightening the abs Who doesn't want a tighter and stronger midsection? Complete the variety of training programmes and see your ab goals begin to take great shape.
Related Topics