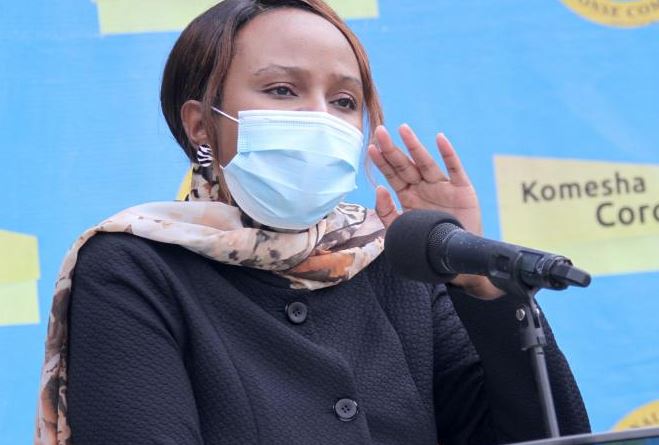 Patients scheduled for emergency surgeries will be exempted from pre-operative Covid-19 test.
Speaking yesterday during the update on Covid-19, Health Chief Administrative Secretary Mercy Mwangangi (pictured) said even with exemption of some patients from the coronavirus test, hospitals should strictly enforce the containment measures.
However, for elective surgery, patients may be required to undertake a pre-operative Covid-19 test.
Dr Mwangangi noted that surgical services in hospitals have reduced drastically due to the effects of the pandemic.
She said the Ministry of Health has been doing reviews that will give guidance in terms of accessibility to essential services.
The CAS said data from the National Hospital Insurance Fund (NHIF) shows that surgical services had dropped by over 10,000 cases
Providers are compensated
"Five months before the pandemic, NHIF would run about 44,528 surgeries and ensure providers are compensated. However, during the pandemic there has been a drop of almost 10,000 cases, coming to around 32,717," said Mwangangi.
She noted that this is a cause of concern and advised the public to seek medicare, saying that there are mechanisms for protection, particularly for elective surgery.
Mwangangi noted that Kenyatta National Hospital (KNH) had operationalised two theaters specifically for Covid-19. Despite this, the hospital has recorded cancellations of elective surgeries.
"There is a decline across the whole array of this type of surgical cases," she said.
For instance, between March and July last year, KNH performed 9,598 surgeries compared to 6,180 during the same period this year. The CAS said the scenario is the same in all referral facilities.
"We continue drawing lessons from past pandemics. Last year and in 2014, particularly during the Ebola pandemic, it was reported that affected countries actually had a disruption in essential services," said Mwangangi.
She announced that the government, in collaboration with stakeholders particularly associations that deal with surgical and anesthesia services, have come together to develop guidelines to ensure safe service delivery to patients.
Mwangangi noted that options such as telemedicine for screening elective patients had reduced the need to be physically present in a healthcare facility, but for those who have to go to hospitals, there are measures to ensure appropriate sitting arrangements in waiting rooms. Clinics have hand hygiene facilities and patients have to adhere to government protocols particularly the use of masks.
She added that hospitals are still offering services such as maternity, child health, delivery, caesarean and immunisation.
Yesterday, the ministry announced 515 more Covid-19 cases raising the number of confirmed cases in Kenya to 29,849 out of 6,353 samples tested in the last 24 hours, thus bringing the cumulative samples to 387,670.
Mwangangi said there were 672 more recoveries thus bringing the tally to 15,970. Of the recoveries, 607 were under home-based care and 65 in health facilities
The country recorded seven deaths, raising the toll to 472.
In case distribution, Nairobi led with 251 new infections followed by Kitui with 41, Kiambu 33 and Kericho 23.