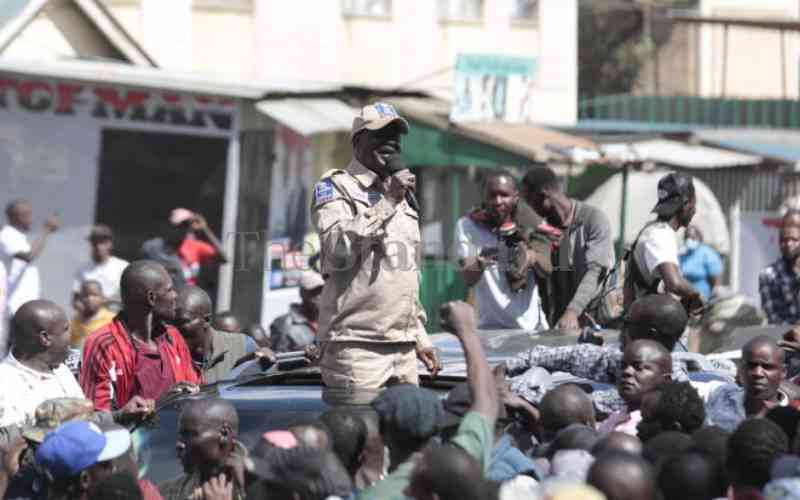 After making futile attempts to access the Nairobi Central Business District (CBD) during Monday's demonstration, Opposition leader Raila Odinga retreated to the city's Eastlands area.
The plan had been that demonstrators would converge in the CBD before marching to State House, but a police repulsion kept most protestors within the estates. And so there had been no notice issued to residents of Kamkunji, Eastleigh, Mathare or Ruaraka of Raila's visit to the said estates.
The Azimio roadshow in Eastlands was deliberate. Although no prior communication had been made, the Opposition leaders were sure to attract huge crowds. They did, in all the stops they made. An initial attempt by the police to thwart their meetings was eventually defeated by the swelling masses, which mostly comprised the youth and women armed with their sufurias and cooking sticks.
Eastlands is home to a significant percentage of the capital's lower class, many of who are unemployed or in informal employment, referred to by President William Ruto as hustlers. It is home to a number of slums, such as Mathare, where many of the 28 million Kenyans living below the poverty line stay. Most demonstrations in the past have originated from such settings that also record high crime rate as well as a significant share of police brutality.
When he announced Monday's mass action, Raila listed his top priority as having the cost of living brought down and a return to the unga, fuel and electricity subsidies that mostly cushioned the society's most vulnerable.
Ruto and Raila's current showdown is as much a power struggle as it is a fight for the heart and soul of the hustler, who make up the bulk of the country's population and to whom the runaway cost of living has been devastating.
Despite the government's assurances that things would get better, the prices of essential commodities, such as kerosene that many vulnerable families rely on for cooking and lighting have gone up. Electricity prices, too. The price of a two-kilogram packet of unga, Kenya's staple, has stayed above the Sh200 mark, months after a subsidy that saw prices drop to Sh100 expired.
The president is confident that a fertiliser-subsidy programme will soon lead to lower unga prices, with the Agriculture ministry announcing that maize and rice imports expected next month would ease the burden on mwananchi. But an assertion from Deputy President Rigathi Gachagua over a global maize shortage and warnings by millers to raise the cost of unga, do little to inspire hope of better days ahead.
In recent weeks, Raila has accused the president of neglecting the 'hustlers' that he said he would protect during the campaigns, saying that it was heartless of the government to scrap subsidies and impose huge levies during such harsh financial times. This message was hammered home by his allies during a press briefing yesterday.
"Yesterday, it was not only Azimio demonstrating. It was every Kenyan who is now tired and hungry," Senate Minority Whip Ledama ole Kina yesterday said at Parliament Buildings.
"They have now allocated Sh802 million to buy vehicles. This is the only thing they care about... they don't care about Kenyans. Raila has stood as the chief hustler and that is why Kenyans were marching in solidarity," the Narok senator added.
"You said you would give opportunities to the mama mboga. Where is she among the CASs recently nominated? Hustlers were deceived," Likoni MP Mishi Mboko said.
Indeed, Ruto rode his campaigns on the back of the hustlers, proclaiming his support base the "hustler nation."
Earlier, a section of Kenya Kwanza lawmakers had urged more time for Ruto to address the cost of living, accusing Raila of being part of the problem through his handshake with former President Uhuru Kenyatta. Further, they accused the Azimio leader of leading demonstrations that disrupted the livelihoods of struggling entrepreneurs.
"It is rather unfortunate that a young entrepreneur from Luo Nyanza, the proprietor of Pitstop in Kisumu, had to lose this business courtesy of the anarchy orchestrated by Mr Odinga. It is a pity," National Assembly Majority Leader Kimani Ichung'wa said.
Largest slums
For the longest time, the Opposition leader has enjoyed significant support among the country's poor, having himself represented Lang'ata constituency for three decades, which formerly housed Kibra, one of Africa's largest slums.
Ruto would paint Raila as a sellout to the masses, with the Azimio leader insisting that he represented the voice of the downtrodden.
"They are politicians and they each want to look good," University lecturer Macharia Munene says of Ruto's and Raila's struggle to win the hearts of the poorer in society. "When the interests of the elites are in trouble, they gang up, such as they did when voting for representatives to the EALA. Once that is done they pretend to be fighting."
Whether or not Ruto's messaging worked during the campaigns is debatable, given that he lost to Raila in Nairobi, where the majority of the hustlers live, with a wider margin (14 per cent of the county's vote) than Uhuru had in the 2017 and 2013 elections.
"Ruto was quite successful in winning the hustlers because Raila went to bed with power and he appeared to be the victim of concerted power ganging up against him. But in power, he has learnt that it is one thing to promise and another to deliver," Prof Munene states, faulting the president for making lofty promises. "He said that the Bible would come down with the cost of living, which was unrealistic."
Ruto promised an inclusive government of the "mama mboga and boda boda riders," chiding his rivals over allegedly seeking to divide top government positions. Months into his tenure, Ruto is facing criticism for overcrowding the government with poll losers and breaking campaign promises.
"Being a good politician, Raila has recovered his support because Ruto has been making political blunders," Prof Munene adds.
Related Topics