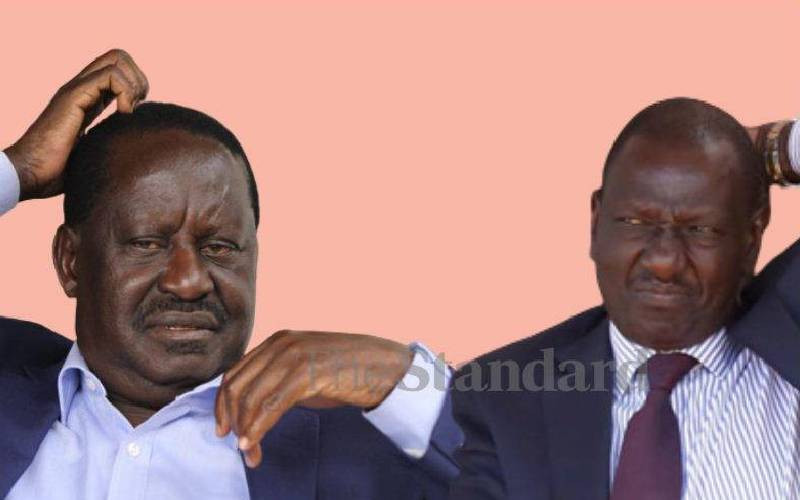 Azimio leader Raila Odinga goes for the second of his planned countrywide rallies today, heightening the political temperatures even as the government laughed it off.
Raila insists he will not recognise President William Ruto's presidency, succeeding in roping in the Head of State in a renewed political duel.
In the first rally at Kamukunji Grounds after returning to the country from South Africa last Monday afternoon, the Azimio leader called on Kenyans to resist Ruto's government.
He claims the regime conned its way into leadership and maintained that the 2022 presidential poll was marred with irregularities.
Raila has demanded that the Kenya Kwanza government resigns, because they 'lack the mandate to govern the country'.
"We as Azimio reject the 2022 election results. We cannot and will not recognise the Kenya Kwanza regime and consider it illegitimate. We don't recognize Mr William Ruto as the President of Kenya," Raila told the crowd in Kamukunji.
This is same message Raila is likely to spread as the Azimio brigade convenes at Jacaranda Grounds today.
The Opposition chief has constantly thrown jabs at Ruto, with the president responding each time a political blow is thrown his way.
Raila has insisted he won the elections with more than two million votes, citing an alleged dossier released by 'whistleblower' within the electoral commission.
Immediately Raila made the allegations to the applause of his supporters at Kamukunji, Ruto who was attending the funeral of Trade Cabinet Secretary Moses Kuria's sister, fired back.
Days later, during the groundbreaking of an affordable housing project in Shauri Moyo, Nairobi, on Thursday, Ruto returned another political bullet. He told the Azimio leader he will not engage with him to a political duet as he is busy serving Kenyans.
"There is no other Kenyan president but me. What I cannot do is to let a small group of individuals interfere with my work," said Ruto. "I will not take part in that. If you think you can scare us, let me tell you it will not work. This country does not belong to two or three people."
Observers say Raila may have succeeded in pulling the president's leg by dragging him into war of words that will work to the opposition leader's political advantage.
The question is should the president enter into the political ring, then who will blink first?
"Raila is being himself. He is seeking relevance. The question is will the president see this scheme? Ruto should be cautious and not respond to Raila lest he is courted into an unnecessary contest," said Prof Macharia Munene, a professor of History and International Relations at the United States International University, Nairobi.
Prof Munene said Raila had succeeded in stopping Wiper leader Kalonzo Musyoka's political move to replace him as the opposition kingpin and likely candidate in 2027.
"Kalonzo has submitted to Raila again. The other day he said they are waiting for their leader to come back from South Africa. He now has trained his eyes on the president, he wants to engage Ruto in a busy political contest with his eyes on 2027," said Prof Munene.
Secondly, Prof Munene said Raila was seeking to gain back his lost glory of being seen as a champion of the down-trodden. "Raila lost a huge political goodwill through the handshake and Ruto took up his political space, now he is trying to claw it back," said the university don.
Legislators from Rift Valley seem to agree that the opposition chief was seeking relevance. They claimed the former Prime Minister was 'seeking to re-invent himself' and remain politically relevant ahead of the 2027 elections.
The lawmakers, however, believe the planned protest rallies won't disrupt their focus in assisting President Ruto's Kenya Kwanza administration deliver its mandate.
MPs Julius Rutto (Kesses), Oscar Sudi (Kapseret), Timothy Toroitich (Marakwet West) and Benard Kitur of Nandi Hills who spoke separately, said Kenyans should ignore Raila.
"It is not the first time for Raila to protest the outcome of elections. He has not recognised any government in the past. His brand of politics is to force himself into a negotiation table for a position," said Rutto.
He urged the opposition to Ruto time to deliver on issues that will benefit Kenyans. "We urge the president to ignore schemes by Raila and concentrate on developing the country. President was recently in Nyanza and residents were anxious for development," added Rutto.
Toroitich said: "Raila is trying to reinvent himself politically. He is seeking to have an outfit for 2027 since he has not mentored any other leader to face Ruto."
Mr Toroitich who is an independent MP added that "Raila wants to cleanse himself from attachment and failures of the previous regime."
Toroitich, however, said Raila's place in the opposition was democratically healthy in checking the government.
"Raila has become the opposition as an individual since in law, there is currently no office of the official opposition. He is good at checking any excesses of the government. The government position cannot be challenged at the National Assembly currently as it occupies all key positions," said Toroitich.
Kitur said the Supreme Court heard and determined issues raised by the opposition hence Raila should accept the verdict and move on.
"What Raila wants is to destabilise Ruto's administration. He wants to use rallies to make himself relevant since he does not hold any elective post," claimed Kitur.
Sudi urged Raila, Kalonzo and Narc Kenya leader Martha Karua to 'stop misleading Kenyans that they can defend them.'
"Current protest rallies led by Raila are sponsored by people who did not accept defeat in the 2022 elections, but they will not disrupt government," said Sudi.
But as the pro-Kenya Kwanza leaders spoke, National Assembly Minority leader and Ugunja MP Opiyo Wandayi said they will soldier on until Kenyans know who won the presidency.
"We will not relent, what we have begun, the Kamukunji rally was child play, today will be bigger and the protests will continue. This is for the benefit of Kenyans. The constitution gives us room to demonstrate, we will do it bigger in the coming days," said Wandayi.
He claimed Raila won the presidency and that electoral injustices must be addressed. "The Jakaranda rally will then open room for further meetings and eventually demonstrations until the truth comes home," said Wandayi.
Wandayi said: "We will not relent. The Kamukunji rally was child play. Today's will be bigger and the protests will continue. This is for the benefit of Kenyans. The Constitution gives us room to demonstrate."
Makadara MP George Aladwa said: "The meeting will be big and we have dubbed it 'no handshake.' We want our people to know the truth."
Embakasi East MP Babu Owino said Azimio supporters will not be cowed by the government. "We must get what is due to us," said Owino.
Former Defence CS Eugene Wamalwa, speaking during the funeral of Richard Magoha, brother of the late former Education CS Geroge Magoha in Gem, said they will visit every region. "We want Raila to tell Kenyans what to do. The cost of living is high and we must have a conversation," said Wamalwa.
Related Topics