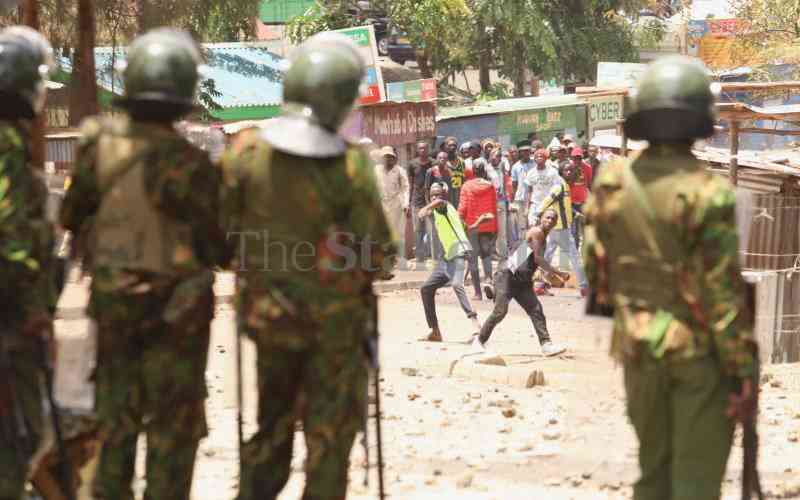 This will be a very anxious decade for governments around the globe unless a lot of ingenuity is invested to temper peoples' anxieties and fears especially in the age of instantaneous broadcasting of events across the globe. Politicians will, more than before, attempt to stoke the emotions of the populace in a bid to capture power.
But if that is not done with great caution and restraint, we will witness a greater wrenching of suffering and humanitarian crises as economies will shrink and then unleash man's darkest impulses like xenophobia, ethnic and racial bigotry, and hysteria that may spiral into constant violent protests. Governments will have to strike a delicate balance between human rights, which are always denied, and security, which is always threatened, whenever there are confrontations between law enforcement agencies and the protesters.
Closer home, we experienced last week the first wave of the mass action called by the opposition to protest, among others, the high cost of living, the composition of the electoral management agency, and alleged electoral fraud. Opinion remains divided on which method would expedite the resolution of the grievances between Azimio and the government.
On the one hand, there are sentiments that President William Ruto and Raila Odinga should talk over any issues that bedevil the nation, and forge a bipartisan compromise. This view faces stiff opposition from those who argue that politics is primarily the power to distribute the cost and benefit of administration and as such, it is pointless to go to the polls if both sides of the political divide would want to have a say in how the country is run.
The proponents of this view insist that observance of the law in acquiring and accumulating power, is important for the country for when our laws are made subservient to political impulses, then this will be the genesis of a steep descent down the sloppy road of political supremacy as opposed to constitutional supremacy as it should be in a constitutional democracy.
A little unconventional truth. Both sides have failed to entirely run a clear coherent message that Kenyans can bank on. The elephant in the room is how Kenya pulls itself from this political battle of big egos that is threatening to take both economic and social dimensions to the detriment of the very masses in whose name both sides are advancing their hardline positions.
Whereas everyone supports Azimio's call for reduction of the cost of living, the leaders quickly add other demands that chip away at the legitimacy of their demands. A case in point is the call for an audit of the servers and reinstatement of the 'Cherera 4'. It cannot be that in 2016 the opposition called for disbandment of the IEBC while today it is calling for retaining of the agency and in both instances, it is against the law. This is what I call the danger of political supremacy. Not any different from autocratic legalism just that in this instance, it is not by a duty bearer (read State) but by a political leader.
On the other hand, the government is yet to communicate a coherent policy direction that is people-centric and radical enough to bolster investor and citizens' confidence. Dr Ruto seems to have let anyone in his administration articulate government policy which seems to be happening from a standpoint of insufficient knowledge. What you are then left with is something akin to the encounter between a blind man and an elephant. Some pronouncements are similar to sound bites given on the campaign trail as opposed to government policy that should inspire and edify.
The president must demonstrate to those left at the base of the pyramid that they have a Commander-In-Chief who cares, who listens to their cries, and who will not place a premium on short-term political expediencies over the economic imperatives that would see us remain not only a leader among regional economies but also a giant on human development index.
Mr Kidi is a governance and policy expert. [email protected]
Related Topics