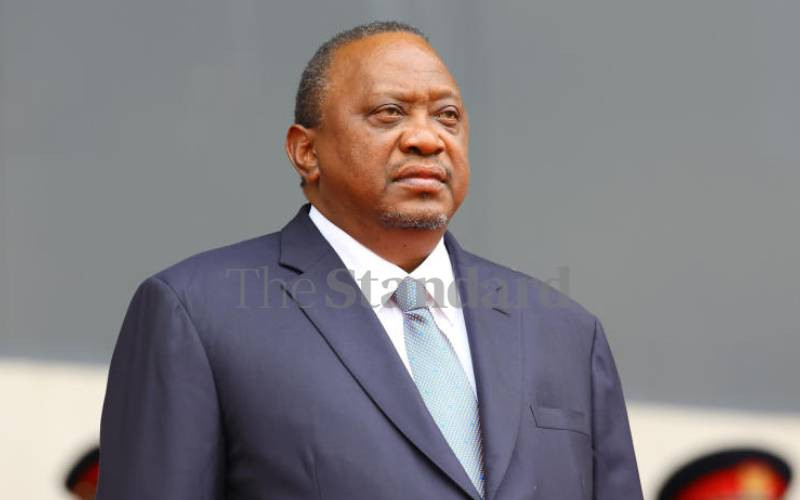 It has been six months since President William Ruto was sworn in on September 13, 2022, as the country's fifth president. Former president Uhuru Kenyatta is yet to call it quits on the country's active politics.
Mr Kenyatta is still a member of council in Azimo la Umoja One Kenya Alliance and the Jubilee Party leader.
He last addressed the public at Luanda market, shortly after attending former Education Cabinet Secretary Prof George Magoha's burial, and he took a swipe at President Ruto saying that Opposition leader Raila Odinga had the country's interest at heart.
"I am retired, but not tired. I might be out of office but I am fully behind Raila. If he tells me we go this way, we will. I supported him in 2022, and I will back him because he is an honest man out to unite Kenya. I am not looking for any seat, but it is my right to back Raila," Uhuru said.
He has continuously shown his affiliation with Mr Odinga's troop who has vowed to anti-government demonstrations dubbed "mass action" to force the government to lower the cost of living among other demands.
Uhuru and Ruto ran the government for 10 years but had bitter fallout in their last term in office.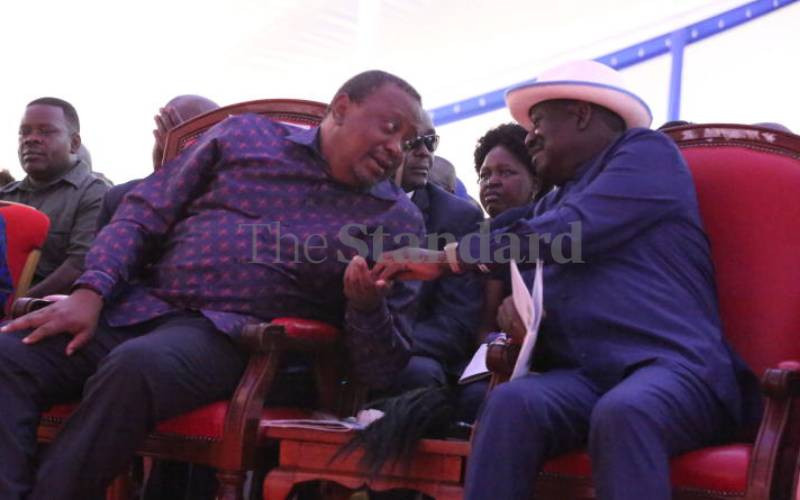 To date, the former Head of State has not made any official communication regarding his position in active politics.
Constitutional lawyer Bobby Mkangi says that Uhuru's actions show that he has made a deliberate decision not to take the retirement benefits.
"We are not sure if Mr Kenyatta wants the benefits. I think he knows that the benefits are discretionary to him, it's upon him to decide if he still wants to stay in active politics and forgo the benefits," said Mkangi.
Mkangi says that the former president is not compelled by the law since the treasury has not released funds for his retirement benefits.
"I think he knows the options if he does not resign because constitutionally a retired president is not allowed to hold office in any political party for more than six months after ceasing to hold office as President," Mkangi adds.
Political analyst, Javas Bigambo says that it would be honourable for a former president to quit active politics but still uphold his constitutional rights.
"Resigning from active politics does not infringe on his rights to vote or believe in a political party. It will be very despicable to see him in Azimio demonstrations. It would show his discontent with the retirement," Bigambo says.
The analyst says that in case Uhuru chooses to continue in active politics then it would mean that he is spiteful of the government of the day.
"His decision to keep active politics would have President Ruto suffer the misfortune of having his presidency undermined by a former president," Bigambo said.
The former president vacated office and still enjoys benefits courtesy of the exchequer, it is yet to be known if he will quit active politics or not.
As stated in the constitution, the retired president during his lifetime is supposed to be granted a pension and other retirement benefits upon his ceasing to hold office.
Uhuru is to be paid a calculated sum equal to one year's salary for the term served as president and a monthly pension equal to eighty per cent of the monthly salary currently paid to the President.
This comes with other monthly benefits including Sh200,000 entertainment allowance, Sh300,000 housing allowance for both urban and rural dwellings. The government is required to provide and maintain for him a fully furnished office not exceeding 1,000m2.
He is also entitled to two four-wheel drive motor vehicles of his choice, replaceable every three years.
Other monthly allowances added are fuel at Sh.200,000 as well as Sh.300,000 for electricity, water and telephone facilities.
A retired president is also given full medical and hospital cover, providing for local and overseas treatment, with a reputable insurance company. This extends to his spouse and children under the age of eighteen years
He is expected to play a consultative role to the government and the public, and perform specific official functions as assigned.
Related Topics