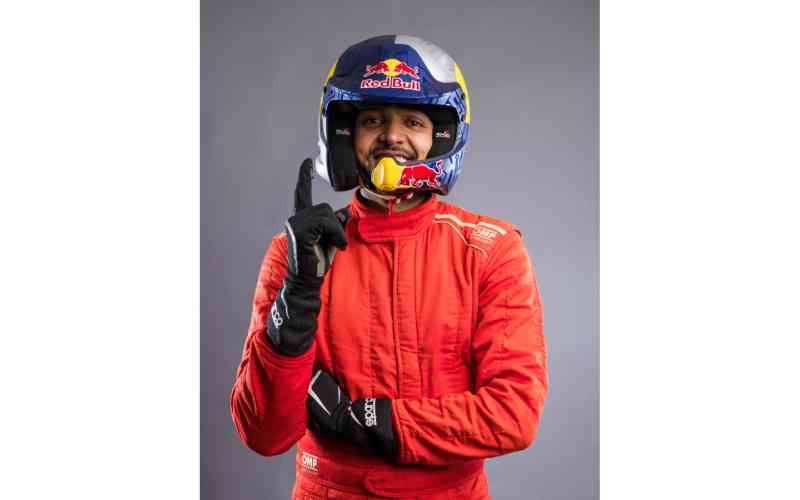 Kenya National Rally Championship (KNRC) winner Karan Patel has described finishing eighth overall in the 2021 World Rally Championship (WRC) Safari Rally as being the 'best moment' of his rally racing career.
The 32-year old driver had an impressive season last season as he claimed the Overall KNRC title, Motorsport Personality of the Year Award as well as the Division One title.
But after losing last year's Africa Rally Championship title to Leroy Gomez of Zambia, the 32-year-old driver will be aiming for an improved performance in the seventh leg of the global showpiece in Naivasha on June 22-25.
"As you may expect, since 2014 when I started rallying, there have been so many ups and downs and various situations that test me as a driver. But for me I would say the most exciting and memorable was when we finished 8th overall and 2nd in class during the 2021 WRC Safari Rally Kenya," said Patel.
Patel, whose team has partnered with Red Bull and sponsored by KCB will be navigated by his long term partner Tauseef Khan in a Ford Fiesta Rally 2 classified in the WRC2 category.
Rally enthusiasts stand a chance of getting an exclusive rally experience with Karan Patel through the Red Bull Tryouts Challenge.
Just like any other sport, Patel says good mental and physical preparation is crucial in achieving positive results in racing.
"Good mental and physical preparation before a race is key to optimum performance. For me I'm always working on this, constantly challenging myself by pushing the limits of what I can achieve," said Patel.
"I believe that it's important to have good physical endurance and this will ensure good mental abilities because the first thing that happens before you lose mental performance is that you get physically tired, therefore I'm always working on my physical fitness because it compliments my mental abilities.
"But nevertheless it's also important to be mentally prepared for a race and for this I feel experience helps me a lot because only time and various situations can help you strengthen your mental state of mind and help you manage yourself during situations that would otherwise challenge less experienced competitors."
Patel's typical day starts at 4.30am as he continues with his preparation for the Safari Rally.
"Typically, my day starts at 4.30am with a cup of black coffee followed by an intense 90 minute workout starting at 5am where I focus on doing various exercises to condition and enhance my fitness levels," he said.
"I then spend some time in the steam room before I freshen up and then head straight to work from the gym. My work is my passion and it's something I really look forward to everyday.
"I'm always the first person in at work by 7.45am and the last one out at 4.30pm. I get home around 5-5.15pm where I typically chill out for about an hour then start making dinner. I like to eat early so that I can wait an hour after eating before I get into bed at 8.30 pm in preparation for the next day of the same routine."
Though it has been difficult to avoid criticism in his rally career, Patel believes the criticism has made him stronger.
"Criticism is one of the challenges that I faced through my rally career however each mistake is a lesson learned and each decision made has been done so based on careful consideration and various factors. I always remind myself of these things when I face negative criticism," he said.
Asked what motivates and inspires him to continue participating in rally racing, Patel said: "I have always enjoyed racing and so I don't need much to keep me going. I am also a very competitive individual by default and so second place is always not enough for me because I need to win for me to be satisfied.
"Nevertheless the fact that I have a wonderful group of people banking on me and supporting me in my journey to be the best version of myself helps a lot because when the going gets tough I think about the support I have from my family, my team, my friends, supporters and fans which I use to keep pushing myself to greater heights."
Related Topics