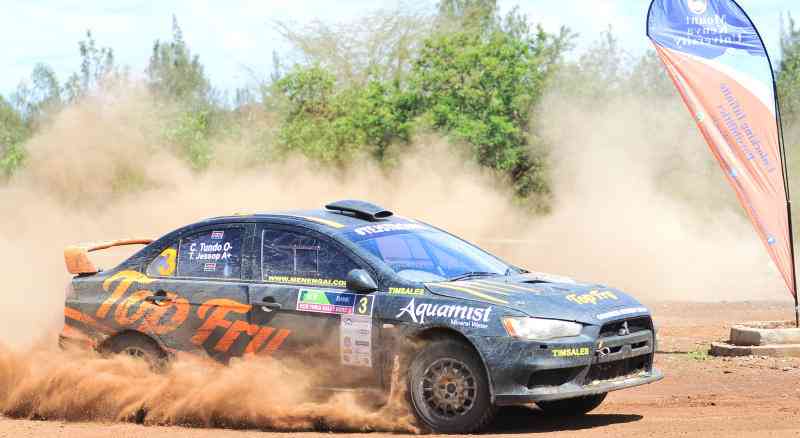 Top drivers across the country are stepping up training for the third edition of Rallycross championship that will be held at the Machakos Peoples Park this weekend.
Looking for honours in the expected adrenaline filled event will be perennial rivals Carl 'Flash' Tundo and Baldev 'Boldy' Chager who are currently moulding their machines for the tough battle that is ahead.
Their multiple agency teams are putting in final works that will ensure their prized road warriors will standard all manner of conditions, including the harsh weather, in the snaking and thrilling murramed Machakos stretch.
The two multiple national championship winners were in Team Duma that won the second edition of the event at the venue in November last year, but this time round they will try to steer their own line-up to glory.
"We are thrilled to have such a diverse range of drivers competing this year, it will be tough but exciting," Tundo, the event organiser cum participant said.
"It's fantastic to see the global Rallycross body (RX) advertising the Machakos event, this is a testament to the competition growth and its ability to attract new talents in such a short period.
"As Rallycross enthusiasts, we are excited for the future of the sport in Kenya and we can't wait to see what the new drivers who have embraced the game will do on the track this weekend," he added.
The renewed battle between Tundo and Chager is expected to draw fans who will descend in Machakos to watch the epic motorsport duel.
While the duo will be fighting for top spot in the podium, they are wary of a number of new talents who have also cropped up and will be looking for the honours in the championships.
"The excitement is palpable. This event promises to be bigger and better than ever before, with new class competitors joining the fray, this only adds thrill and excitement into the game," the five time Kenya National Rally Championship winner stated.
Related Topics