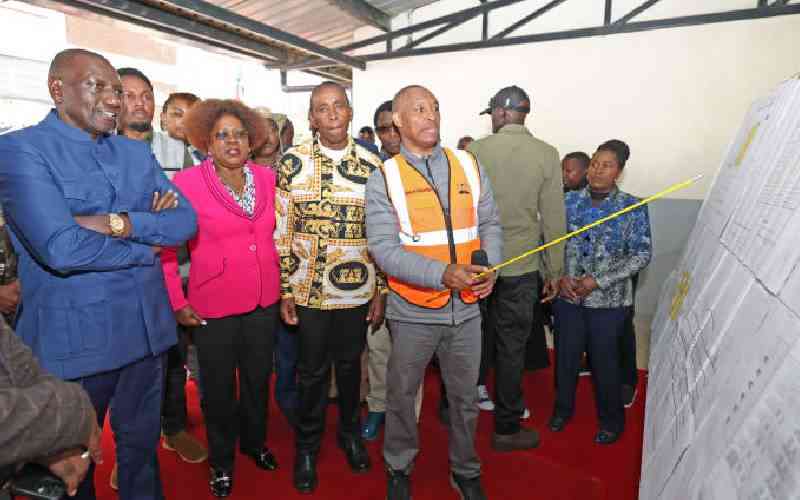 Last week, President William Ruto completed his tour of the Mount Kenya region, where he was accused of relaunching projects already initiated and commissioned by the previous government.
In the frontline of criticism was the Azimio la Umoja deputy leader Martha Karua and former Laikipia Governor Nderitu Muriithi who argued that Dr Ruto should desist from taking credit for projects initiated by former President Uhuru Kenyatta and begin his own.
The push and pull between the Opposition and government is a matter of the kettle calling the pot black. We know that relaunching and inspecting previous government projects is necessary for continuity, regardless of political motivations. We know, for sure, that not all projects launched by Uhuru's regime in the Mount Kenya region were completed during his term.
For example, the Kiganjo Irrigation Scheme project began in 2017 and was completed in April 2023. This is true for projects across the country, and it is the work of the head of state to commission, re-commission, inspect, relaunch and all such names as they might prefer to call it. Therefore, the government and opposition's tussles of interest lie in the safety of the taxpayer—whose yoke is heaviest.
Any action that safeguards our billions-worth projects from rot and mould is worthy of our praise. The president should take credit for such projects instead of ignoring them to become white elephants in the name of launching his own.
We all agree that some projects cut across regimes. If Ruto is relaunching some of the projects and taking what critics consider undeserved credit, let it be. We must agree that lack of continuity in government projects, both at national and county level, costs taxpayers billions of shillings.
Further, some projects require political support and goodwill to succeed. If the consultants and contractors of the said projects find it worthy inviting the head of state as a promotional tool or for other strategic purposes, who can deny them? Methinks what the president did in Mount Kenya, even if he took some 'undeserved credit' as claimed, has the best interest of taxpayers at heart. While making some sense from the Opposition argument, such politicking has dire implications for our development.
First, the thinking discourages new regimes from reviving and continuing the previous government's projects. We know that politics is about interests, and the politicians' interests must be factored in if they are to commit to supporting citizen-centred projects. Second, it discourages regimes from initiating long-term projects if they know that there is no assurance of the plans being carried on by the next administration. Such implications will completely stall our hopes that we can ever have a long-term project cutting across regimes.
Resultantly, we will experience massive wastage of resources because projects will be abandoned. Therefore, we must start viewing regimes in power as extensions of former ones to ensure continuity in development.
We must encourage regimes to continue with the projects of their predecessors. Irrespective of the regimes, all projects are funded by taxpayers. Uhuru did not do any favour to Kenyans by initiating the said projects.
Ruto must be allowed to continue channelling our money into projects requiring continuity and longer life spans than his regime. These are not his projects and should not be labelled as such. The president is supposed to be viewed as a manager of taxpayers' resources, and with that perspective, we should only applaud a president if he/she manages our resources well.
Any president has powers to direct resources where it matters, provided such decisions ensure equitable resource allocation and distribution. Gone should be the days when development projects were seen as favours from the heads of state. Such political patronage think-lines should end with a change of our mindset.
-Dr Ndonye is a senior lecturer, Department of Mass Communication, Kabarak University
Related Topics