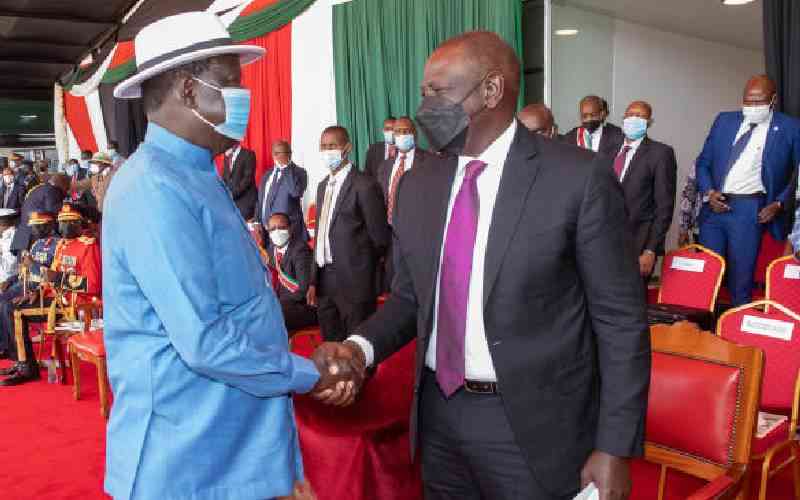 There is a Kikuyu saying that translates to; "the thrust power that propels an airplane from the ground is the one that sustains it in the air". In this analogy, the hustlers are the turbines that propelled William Ruto to the presidency, and any form of 'handshake' with what was their antithesis will work against him in the future.
In mature democracies like the United States, defeated politicians are not allowed to interfere and exercise their opposition mandate outside Parliament. Going by President Ruto's press conference on April 2, 2023, he hinted at allowing issues raised by the opposition to be handled through Parliament.
Although the opposition is against the approach, such culture should be entrenched in our country, and the time is now. This is not about Raila Odinga or Dr Ruto because they will not be there forever. Nevertheless, we might say that a government born out of a handshake calms the country. That was the case in 2008 when Kenya was hit by post-election violence.
Afterwards, the 2010 Constitution established ways of addressing election disputes. We return to the same script through artificially created post-election unrest and then crave for the 2008 moments. Raila has already demanded that bipartisan talks with Kenya Kwanza be akin to the 2008 national accord. Recent demonstrations proved to Raila that he has numbers that can amke him to have a piece of the Kenyan government as he did in 2008.
While that is capital he can use, it beats the logic of holding elections. As such, Ruto should slay this anti-people dragon presenting as an angel of peace. Otherwise, he will be judged with the same marking scheme used on former President, Uhuru Kenyatta. How can he do that?
First, Kenya Kwanza must invest resources to ensure the government is not degraded to set the country back. This way, they will break the political curse of handshake and post-election coalitions that render our elections pointless. If we normalise his through post-election political deals between the winner and the loser, we will never mature an ideal democracy.
second, it is part of the president's and his administration's mandate to defend the Constitution for the good of the citizens and posterity. Third, the major setback of illicit political deals between the winners and losers is that it makes it difficult to audit a government plagued with the inclusion of those whom the people reject. Fourth, we cannot be spending billions in elections only to end up with contesters making a coalition to share power. Since 2013, we have conducted costly elections; Sh36 billion in 2013, Sh49.9 billion in 2017 and Sh44.6 billion in 2022.
When the country invests such money in securing its democracy, its efforts should not be compromised through round-table illicit agreements among politicians. Handshake only caters to political interests and forgets about the people as we saw in 2001, 2008 and 2018. If we institutionalise power-sharing deals after elections, we are saying our elections are just a formality. If so, why should we spend billions of shillings conducting polls that amount to nothing?
Fifth, by encouraging an institutionalised handshake government, we will set a precedence for civil disobedience. In a democracy, the bare minimum requirement is that power should be given by the people, not negotiated by elite political leaders.
In conclusion, what will prevent leaders from sitting down and crafting ways of unsettling legitimately elected leaders through artificially created unrest? Any leader with followers will in future normalise calling them on the streets to broker power. We should not allow this political Leviathan to live.
Dr Ndonye is a senior lecturer, School of Music and Media at Kabarak University
Related Topics