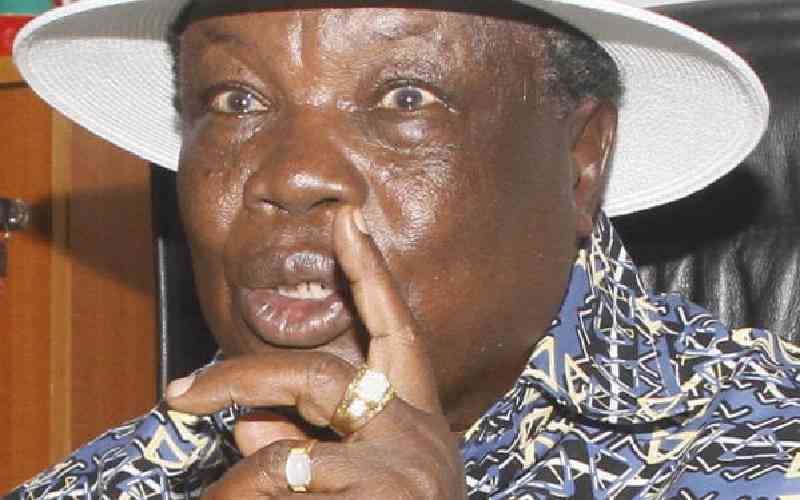 Paulo Coelho, in the Warrior of the Light writes "Do not be ashamed to make a temporary withdrawal from the field if you see that your enemy is stronger than you; it is not winning or losing a single battle that matters, but how the war ends." Today I argue that Francis Atwoli offers the best example how politics should be conducted in Kenya.
Those who will write Mr Atwoli's biography should state that he is Kenya's president's trade unionist and a consistent political irritant.
If you ask UDA followers, they will tell you that before elections, the Secretary-General for Central Organisation of Trade Unions, aka Katibu, should never be admitted to the council of hustlers.
Atwoli loves Rhumba, slow sensuous music which analysts have accorded a "tease and run" theme in which a woman character flirts with a man and later aggressively rejects him. This is precisely the political code of Atwoli. He can flirt with a presidential candidate of his choice during campaigns and aggressively turn away if they lose—isn't this what he did to Raila Odinga in 2022?
On December 4, 2020, I argued in an article entitled 'Kenyan politics and art of king making' that Atwoli could not king make Raila.
I affirmed that "Atwoli is a trade unionist and that his blessings can only flow to his kind—trade unionism. Therefore, going by the principle of 'reproducing your kind', there is no way Atwoli can make a political president.
It came to pass that Atwoli could not make Raila president. And to confirm that he is not a politician, he embraced president Ruto and moved on like the leader of all workers.
At a time when trade unions restrict employment flexibility and distort labour supply, Atwoli has found the secret of partnering with whichever government comes to power. Of course, trade unionism has always clashed with the government, but Atwoli has redefined this role—he plays partisan politics in its proper cycle.
Could it be the reason Uncle Francis has incredible achievements, which include being elected the president of the Pan African Labour movement, the Organisation of African Trade Union Unity?
Furthermore, isn't he a member of the Governing Body of the International Labour Organisation in Geneva, Switzerland and elected board member of the Training Centre of the International Labour Organisation in Turin, Italy, among other global positions?
Those who have studied Atwoli know that he's a happy man, excellent in hibernating in politics and manifesting as a trade unionist. He calls to sell all he has to buy happiness and freedom from grudges. Atwoli recognises that as a leader of workers, there is no way he can lead from the opposition side. This is why he has survived governments like the Biblical Daniel. Any wonder he is not calling on workers to join the Raila's protest meetings against the Kenya Kwanza government?
He started off as a trade unionist and a phone technician for first president Mzee Jomo Kenyatta. Throughout the second, third and fourth heads of state and now under the fifth president of Kenya, William Ruto, Atwoli has been at the helm of the Central Organisation of Trade Unions Kenya.
The 2022 elections campaigns were his hottest. He was convinced that Ruto could never and should never become Kenya's president. When it was clear that Ruto had been confirmed president, he dressed quickly like the biblical David and went to make peace with the president Ruto.
Did Katibu concede Raila Odinga's defeat? He accepted the results and said that his utterances during campaigns can never take him back to Khwisero. At his lowest moment, he unfollowed those he felt were pumping negative energy into his ambience, like the political chessboard master.
Dr Ndonye is a senior lecturer in the School of Music and Media at Kabarak University
Related Topics