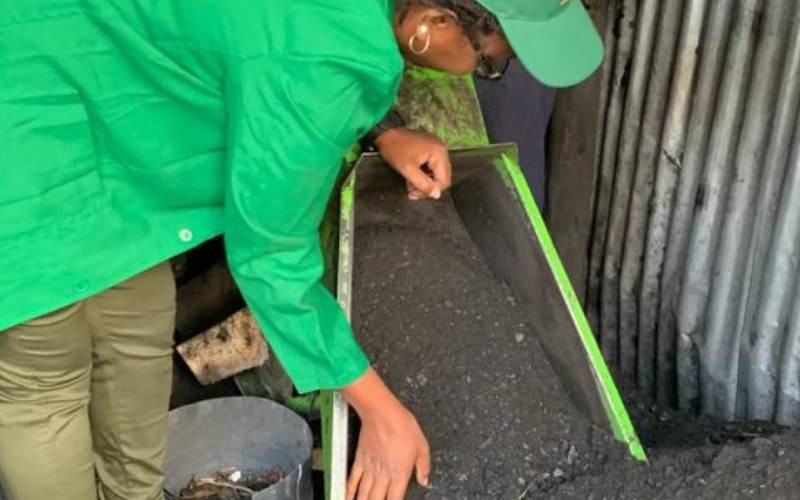 Almost a decade ago, Grace Gitiha took a leap of faith into the world of briquette-making, little knowing the transformative journey she was embarking on. Today, as she reflects on her journey, the demand for her charcoal alternatives has left her with an unwavering conviction that she made the right choice.
In an era defined by escalating environmental concerns and climate change, the quest for sustainable energy sources has become paramount. Amid this backdrop, briquettes have emerged as a commendable and eco-friendly alternative to traditional fuel sources, heralding a greener future for both industrial and domestic energy needs.
Briquettes, those compacted blocks of energy-efficient goodness, have become her life's mission. They burn longer and cleaner than traditional charcoal, lasting up to three times as long. Their versatility makes them a favourite for cooking, barbecuing, and heating homes.
Studies indicate Briquettes boast significantly lower emissions compared to traditional fuels. When burned, they release fewer pollutants such as sulfur dioxide and nitrogen oxides. This leads to improved air quality and a reduced health burden on communities, particularly in areas where indoor cooking with open fires is common
Gitiha is not just passionate about her briquettes; she's dedicated to sourcing her raw materials sustainably. "For instance, we get agricultural residues, such as macadamia shells, corn stalks, and maize cobs, from farmers. We source wood waste like wood chips, sawdust, and shavings from furniture manufacturers," she proudly shares.
But her commitment goes beyond just materials. When we visited her premises in Naivasha, Nakuru County, Gitiha excitedly told us about her plans to pilot using avocado and mango seeds, alongside utilizing market waste like madafu. "We also task youth to collect charcoal dust from vendors," she added.
The process of making these eco-friendly briquettes involves carbonising waste products and mixing them with binders like molasses or gum Arabica. It's a process born out of Gitiha's concern for her environment. "As I grew older, I started to notice that a nearby forest was shrinking, and the trees were disappearing at an alarming rate.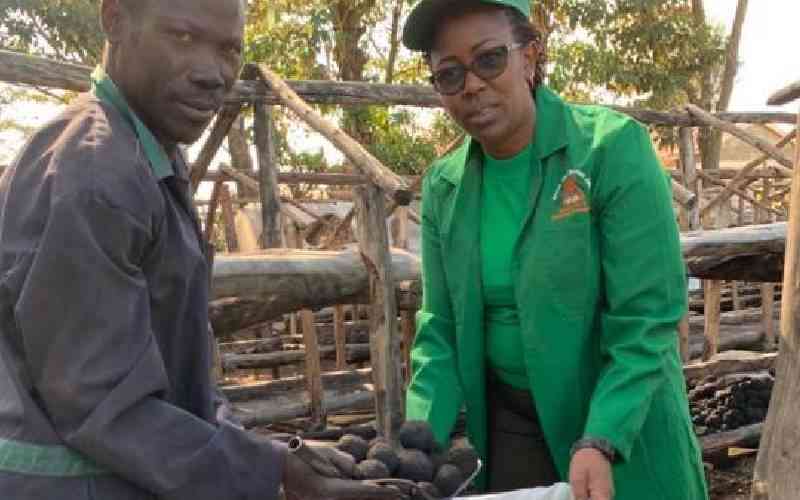 The comparison of the two scenarios of the same place bothered me," she shared. Her inspiration didn't stop there; she also drew motivation from the late Nobel Peace laureate Wangari Maathai, whose fight against deforestation deeply moved her.
Thus, Green Eco Solutions Ltd was born, bringing "Makaa Tunza Briquettes" to the world. Gitiha's company is more than just a business; it's a beacon of hope for a cleaner, greener future. She passionately states, "Green Eco Solutions Ltd continuously researches and develops creative, sustainable, and effective methods to advance the clean cooking agenda and contribute to climate action supporting SDG7 and SDG13, respectively."
The production of briquettes often utilizes agricultural and forestry waste materials that would otherwise go unused or contribute to landfill waste. By converting these waste materials into a valuable energy source, briquette production supports a circular economy and reduces the burden on waste management systems.
Naivasha, known for its abundant flower farms, is not exempt from waste problems. Gitiha plans to utilize flower farm waste as an alternative raw material source, strengthening the circular economy and reducing waste accumulation.
But Gitiha's journey wasn't without hurdles. She did her homework, learning that briquettes were an eco-friendly alternative to traditional wood-based charcoal. "I gathered more information online on making briquettes. I found that it was not an easy task, and it required a lot of hard work and dedication, but I was determined to succeed," she recalled.
Her success isn't hers alone; she's actively involving youth and women in the production process. "The youth collect, load, offload, and carbonize raw materials. Women sort raw materials, collect, package, and weigh finished products," she proudly shared.
The use of briquettes can play a pivotal role in mitigating deforestation. In regions where firewood is the primary source of fuel, deforestation poses a severe threat to ecosystems and contributes to habitat loss and soil erosion. By promoting the use of briquettes, we reduce the demand for firewood, thus helping to conserve precious forests and protect biodiversity.
Her "Makaa Tunza Briquettes" are not just environmentally friendly; they're affordable too. Available in 2kilograms packs for Sh 150, 5kg packs for Sh 300, and 50kg sacks for Sh 1800.
But Grace Gitiha's story is more than just a tale of entrepreneurship; it's a call to action. She hopes her journey will inspire others to join her in the fight against deforestation, just as she was inspired by the indomitable Prof. Wangari Maathai.
Related Topics