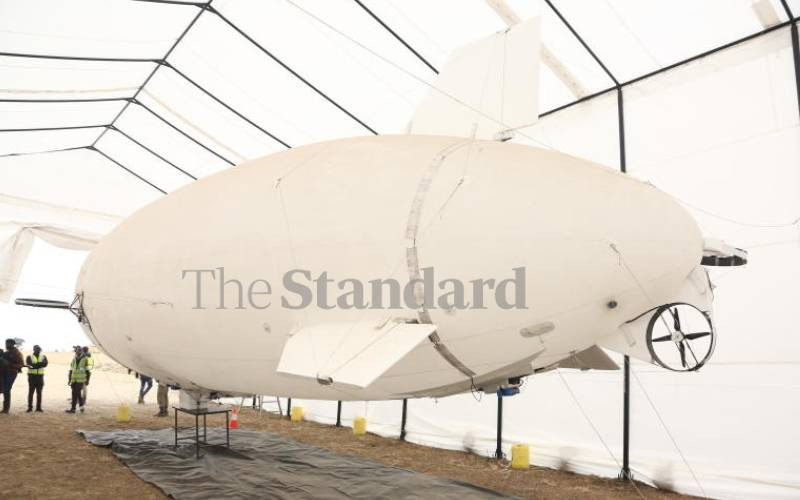 It is the Hindenburg disaster of 1937 that was to be the last nail in the coffin ferrying the air travel invention that brought the airship to life.
And it was. At least for commercial passenger flights. Of the 97 people on board, 36 died just when the airship was approaching Lakehurst Naval Air Station in New Jersey.
The whole incident was captured on camera and broadcast live as the airship disintegrated into flames with very little to be done.
And on Thursday, cameras also documented this aviation masterpiece at the Konza Technopolis Development Authority (KTDA) grounds as an airship, manufactured by Cloudline, a South African firm, took to the skies in a test flight as it prepares to embark on a critical assignment – ferry medical supplies to remote areas in the Nyanza region.
Kenya flying labs, Kenya Civil Aviation and KDF launch an airship at Konza city to help with medical delivery in Nyanza region. pic.twitter.com/kGN6LIRMKE
— The Standard Digital (@StandardKenya)
June 22, 2023
The airship is being operated locally by Kenya Flying Lab.
The test flights are in preparation for the possible launch in September when the airship will be ferrying medical supplies in the remote villages of Homabay and Kisumu Counties.
"We had a better reception from the county executives," said Cleopa Otieno, chief executive officer of Kenya Flying Lab, as he explained why the two counties were selected. He added that the counties do also have poor indicators in terms of mother and child health.
He said the idea is to deliver medical supplies to remote areas like the islands of Remba in Lake Victoria where the only option there is a boat.
Airships are known to be slow. The one associated with the Hindenburg disaster spent three days crossing the Atlantic Ocean.
The idea, he says, is not to deliver emergency medical supplies but to restock. As such, it reduces the need for emergencies when stocks run out.
"It does not have speed but has the advantage of payload and being above round. This cuts the distance to be covered by half," said Mr Otieno. "We are not doing emergency supplies. We could be distributing gloves, Panadol or malaria drugs."
The airship operates just like a drone with a limited altitude, as permitted by the Kenya Civil Aviation Authority(KCAA), of 400 feet above the ground. It has a range of 50 km when ferrying five kg of supplies. However, this range can be extended owing to the solar panels attached to it which will keep recharging the battery.
It is fitted with three thrusters: two at the front synonymous with a two-engine fixed-wing plane and one at the back, similar to a tail rotor on a helicopter. The thrusters assist the airship in hover and cruise mode.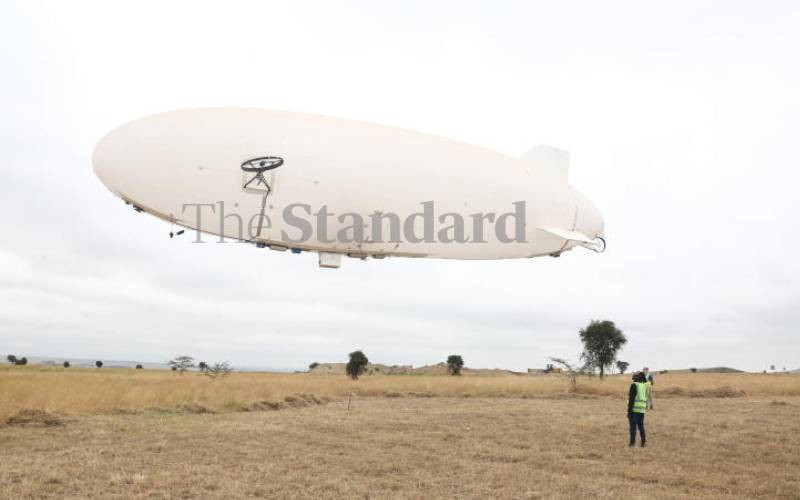 The thrusters are powered by a battery. It uses helium. Helium is lighter than air hence the reason it floats. Hydrogen can also be used but since the 1937 incident, it is discouraged due to its flammability.
Henry Kotze, Cloudline lead software engineer, referencing the unkind history associated with airships, said technology has given this aviation innovation a lifeline.
"Technology has evolved. We are using new technology in storage, communication and propellers. That is proof that so far that airship can fly in fair weather," he said.
He explained that the airship is fitted with advanced technology and that in case of loss of communication while on transit, it will return 'home'.
"You can also configure it that if there is a landing site nearby, it will land in cases of emergency," he added.
He said the equipment is light. As such, even in cases of emergency landing, there will be minimal to no damage.
"Because it is light, it is very easy to control by rope as it would be like a kite. It also weighs so little so the impact on infrastructure building or people will be very minimal," he said.
The airship has the ability to make several stops. On landing, a rope can be hooked on it for the unloading process then released once again to continue with other deliveries. The firm said once approval by KCAA is done, another airship will be added that has a winch that can just release the supplies as it moves on.
Airship mark an advancement in drone technology that African nations are slowly embracing to deal with challenges in access for medical supplies. Rwanda has used drone technology provided by a US firm known as Zipline to supply blood and blood components out of Kigali, the country's capital.
"The good thing about airship is that it needs little infrastructure where it does deliveries," said Mr Kotze.
Related Topics