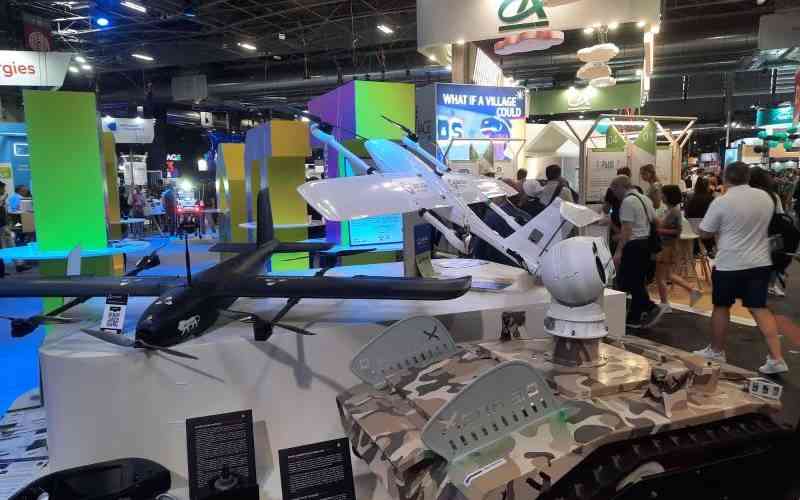 President William Ruto, during the Madaraka Day celebrations, pledged to have boda boda riders use electric motorcycles by September.
Of course, a skeptical nation turned the pronouncement into memes, and many laughed it off, saying the country is used to empty promises.
However, in the technology world, there is rapid transformation not just to drive towards a cleaner energy but to provide solutions to make life much better.
The VivaTech exhibition that took place in Paris, France, brought together the world of technology as we know it, ranging from solutions to health care Artificial Intelligence brilliance, military or security advances, beauty and body care to top notch inventions in entertainment.
As we mull electric boda bodas, Zapata company has innovated what it calls an airscooter, which was on display at the Vivatech exhibition. In simple terms, it's a drone that can ferry people around. Interestingly, it can be in the air up to 4 kilometres high for two hours at a speed of 80kph.
The invention that is set to be launched in the US next year is revolutionary.
The company's Chief of Operations, Supply Chain, Clement Perota, said what stands between the innovation and a launch in Africa is the rules of engagement, which are authorisation, licensing and policy planning for many governments.
"We will be launching the scooter in Arizona US in 2024. It is going to revolutionise individual transport since the scooter can be airborne for up to two hours at an average speed of 80 kilometres per hour. It can rise up to 4,000 metres in height," he said at the exhibition.
Firing missiles
At same event, Club First Robotics showcased "the strongest robot in the world." On first glance, it looks like a car children drive in parks but what it does ranges from firing missiles to extinguishing fire.
The company's Managing Director Bhivnesh Mishra said the technology is available in the market, with governments opting for the robot due to the multiple tasks it can perform.
"Apart from engaging in combat, it can extinguish fire with more precision and can also tow stalled vehicles. It can pull a car of 500kg. This is the strongest robot in the world," he said.
Closer home, South African techie, Mellowvans, in spite of the load shedding and electricity problems at Eskom, has innovated a delivery van modelled like our local tuk tuk but uses electricity.
The van can cover up to 80 kilometres on a single charge and can be recharged at home just like a phone.
Already, up to 1000 units have been manufactured and are being used for deliveries in Germany and Belgium.
Speaking to The Standard at the tech exhibition, Joshua Palm, who works in the trade department at Wesgro, said the van was designed for the African roads, with ease of charging being a big factor.
"What the maker is currently doing is work with financiers to meet the cost and have those operating them pay in installments. It is a convenient way to move goods and make money," said Palm.
The tech exhibition brought together the best in the world with everyone seeking to not only outsmart competition but also look to make the world a more convenient place to live in.
Related Topics