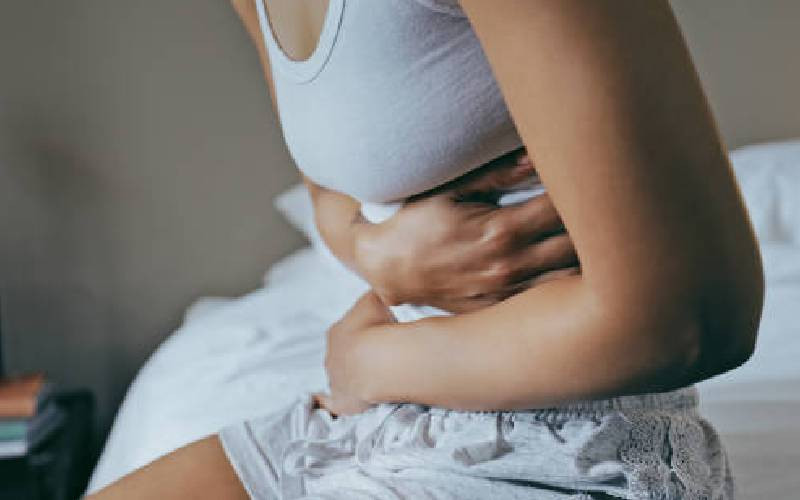 After every 28 days Mary, not her real name, wishes she wasn't born a girl.
"I always suffer from severe pain from the start of my period till the end," she says with teary eyes.
According to her gynaecologist's prescription, to relieve the pain, Mary visits a medical facility every day of her menses to receive an injection of Bascopan.
She was diagnosed with dysmenorrhea way back in October 2012. Dysmenorrhea, commonly known as menstrual cramps, are throbbing or cramping pains in the lower abdomen. Most women have menstrual cramps just before and during menstruation.
Mary says that during this period, she undergoes many challenges such as severe pain, mood swings, vomiting, lack of appetite and loneliness.
"Cramps always hinder me from carrying out my daily activities and sometimes I even fail to report to work," she says.
For some women, the discomfort of a menstrual period is merely annoying. For others, menstrual cramps can be severe enough to interfere with daily activities for a few days, every month.
"I always starve for four days during my menses due to lack of appetite. I end up vomiting anything that comes through my mouth," says Mary.
According to BMC Women's Health, Dysmenorrhea is a common problem, with 50–90 per cent of women in their reproductive years worldwide describing having painful menstruation.
Johns Hopkins Medicine explains the cause of dysmenorrhea: During your menstrual period, your uterus contracts to help expel its lining. Hormone-like substances (prostaglandins) involved in pain and inflammation trigger uterine muscle contractions. Higher levels of prostaglandins are associated with more-severe menstrual cramps.
Symptoms of menstrual cramps include a throbbing or cramping pain in your lower abdomen that can be intense, pain that starts 1 to 3 days before your period, peaks 24 hours after the onset of your period and subsides in 2 to 3 days, dull continuous ache, pain that radiates to your lower back and thighs and some women also have: Nausea, loose stools, headache and dizziness.
"Unlike others who feel better after taking medication, I don't always see any change and this makes me think my body is resistant to these drugs," Mary says.
Just like Mary, Marion, a student from Kenya School of Mass Communication, goes through immense pain during her menstrual period.
"During my periods I experience numbness in my second hip, vomiting, nausea, and extreme lower abdominal pain that doesn't improve unless I take strong painkillers. The symptoms last throughout the entire menstrual period and it is a very painful experience for me," said Marion.
Unlike Mary and Marion, Fatuma Adhiambo, a student at Maseno University decided to face the painful cramps bare-handed.
"I usually experience heavy menstruation that always leaves me in so much pain. I stopped using medication because my gynaecologist told me that continuous use of pills to relieve the pain has long-term side effects," Adhiambo says.
"Nowadays I just have to use hot water bottles, exercise and meditate," says Adhiambo.
Dr Stephen Mutiso, a Consultant Gynecologist, says that dysmenorrhea is classified into two categories; Primary dysmenorrhea and secondary dysmenorrhea. Primary dysmenorrhea means it begins with the onset of periods while secondary dysmenorrhea means it starts later after painless periods.
"Primary dysmenorrhea may be caused by excessive contractions of the uterine muscles due to excessive production by the body of a substance called prostaglandin. It may also be caused by a very narrow cervical canal which makes it hard for menstrual blood to flow out hence uterus has to contract with much force," said Dr Mutiso.
According to the consultant gynaecologist, secondary dysmenorrhea may be caused by infections, fibroids, adenomyosis, and endometriosis. He further says that other causes of secondary dysmenorrhea include cervical stenosis and uterine polyps.
"Treatment is mainly the use of drugs which reduce prostaglandin production. Hormonal treatment may be offered especially in women who desire contraception. The pills can be offered to this woman or depo injection or medicated IUD," says Dr Mutiso.
According to Dr Mutiso, secondary dysmenorrhea requires investigations to find out the cause.
"Treatment offered depends on the cause," he says.
Related Topics