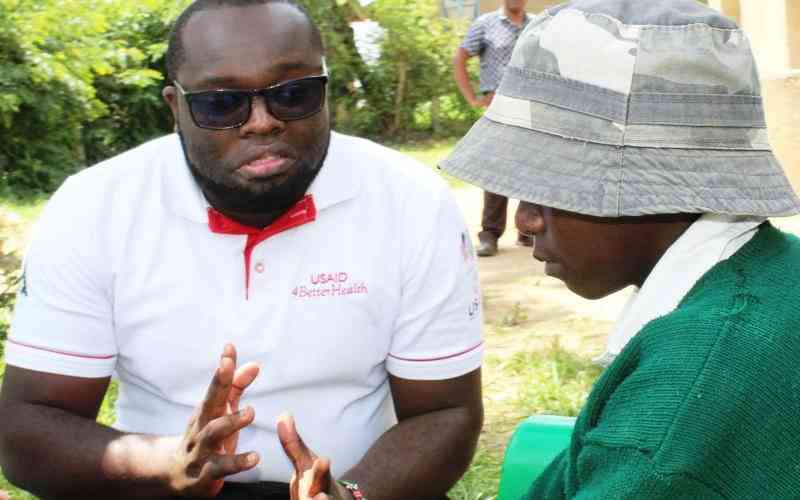 When he was two years old, Elvis nearly lost his life as he would be constantly sick and kept losing weight.
His mother bought over-the-counter drugs and severally took him to a local dispensary but nothing seemed to work.
Elvis was wasting away, very fast. One day, his mother took him to Kitui Level IV Hospital.
The medics immediately diagnosed the boy's ailment.
He was HIV-positive. Elvis, who is the last born in a family of five had contracted the virus through mother-to-child transmission.
The mother admits that during one of her antenatal clinic sessions, she had tested positive for HIV and was counselled and advised on how to prevent the unborn child from contracting the virus.
But she was in denial. "I did not believe that I was HIV positive, so I ignored the advice. Even when I gave birth, I continued to breastfeed as I had done to the other children," says the mother. It was a grave mistake that saw her lastborn contract the virus.
Social services
Luckily for Elvis, now a Form One student, he was enrolled among 1,299 orphans and vulnerable children living with HIV in a USAid programme dubbed 'USAID 4Better Health.'
It gives quality health and social services to vulnerable children and adolescents living with HIV in Kitui.
Joyce Mwangi, a clinical officer at the Kitui County Referral Hospital in charge of HIV-positive children recalls how wasted Elvis was when he was admitted at the facility. He had one of the highest viral loads ever recorded at the facility; at over 800,000 copies per millilitre of blood.
"He was sickly, malnourished, and had diarrhoea and skin rash. He was also grossly underweight and had stunted growth," recalls the health officer. Today, however, Elvis can afford a smile and is clear about his future dreams. "I will become a doctor when I complete school," he said confidently when we caught up with him at his home in Kitui Central.
Since he attends a day school, the 16-year-old says he religiously takes his drugs in the morning before leaving for school and later in the evening when he returns home.
The clinical officer says Elvis' case is a success story since his viral load has been successfully suppressed to low detectable levels through enhanced antiretroviral treatment.
The boy is now living a healthy life and is not at risk of opportunistic infections. Viral load is a numerical expression of the quantity of HIV in the blood system of a patient.
Through the USAID programme, the family was supported to establish a food kiosk that helps to supplement their income. His school fees is also paid under the programme. A week before our visit, Elvis had collected his three months dose.
Elsewhere at a school within Kitui Central Constituency, we meet Marcus, a class eight candidate and Ethan, his young brother, also a pupil in the same school.
The siblings have been living with HIV since they were born. Another case of mother-to-child transmission. It is during break time when we cautiously pick the elder brother to have a word away from the prying eyes of his schoolmates. "Two weeks ago, I collected my medication for the next four months. I want to be a teacher," whispered Marcus, while eager to rejoin his friends at the playground.
Through the USAID 4Better Health programme, the children who had dropped out of school and were living with their grandmother were moved to a boarding primary school on full sponsorship. "It was important for them to be in a boarding school because they had viral spikes due to poor drug adherence," says Kelvin Wambugu, the project manager.
The children were then enlisted at Kitui County Referral Hospital for treatment and close monitoring. This has afforded them a healthy and comfortable life in school. The guidance and counselling teacher (name withheld) who is trained in Directly Observed Therapy ensures pupils take drugs.
His initial role was to administer the drugs to them every morning. The teacher says the two are now aware of their status and take their medication willingly. Initially, however, the younger boy would occasionally get moody and throw tantrums while refusing to take his dosage.
Special diet
However, with counselling, the pupils currently have no problem taking their medication. They have also been put on a special diet.
For their privacy, the teacher says it is only the school president and their dorm captain who are aware that they are on medication. Mr Wambugu, the USAID 4Better health project manager in Kitui says the programme supports the payment of transport to attend clinics, pay school fees and provide food for vulnerable children.
The programme is working with 72 health facilities and a number of schools. Of the 1,299 children who are HIV positive, 92 per cent have had their viral load successfully suppressed to low detectable levels.
Ms Mwangi says those who have their viral load suppressed and adhere to treatment can live full lives and achieve their dreams. "We give them long-appointment drugs and we are convinced they are not at risk of opportunistic infections," she says.
According to National Syndemic Disease Control Council, Kenya had 1.46 million people living with HIV, of which 1.199 million were on antiretroviral treatment in 2021. There are 13,000 new infant HIV infections annually. The minors' names have been changed to protect their identity.
Related Topics